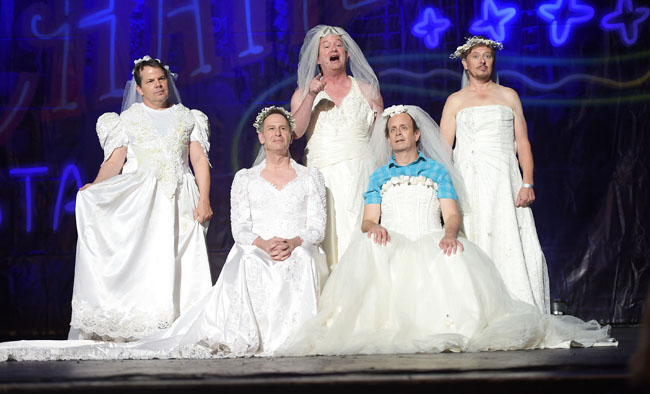 Even though it's been 23 years since The Kids in the Hall TV series went off the air, we've never had to go too long without our favorite Canadian sketch comedy troupe. Between live tours, the oft-maligned (but also cult-beloved) 1996 film Brain Candy, and their 2010 limited series Death Comes to Town; somehow the gang always finds a way to get back together.
One would imagine, with revivals and reboots all the rage, the timing would be perfect for a new Kids in the Hall project. And if Lorne Michaels has his way, that's exactly what will happen. Ahead of a stand-up show on Sunday at the at Laugh In Comedy Cafe in Fort Meyers, troupe member Kevin McDonald spoke with the Florida News Press and revealed that the SNL creator reached out to all five of them about taking a page from Mr. Show and putting together six episodes of sketches for "something like Netflix."
"It's so at the beginning, we're not able to even get conference calls together. There's always one or two of us that are kind of busy. And because we are who we are, there's always one of us against it.

"But I think, right now, there's no one against it. … And I'll try to get it going, because I'm the one who's supposed to get it going. … It's super exciting!"
Considering that the guys have never been shy discussing the in-fighting that has occasionally gone on between members of the troupe, "there's no one against it" is about as positive a sign of something actually materializing as we're gonna get. Meanwhile, a Netflix exec probably just twitched their ear like a cat hearing a can of cat food opening. Fingers crossed we might see something by the end of 2018!
(Via News Press)