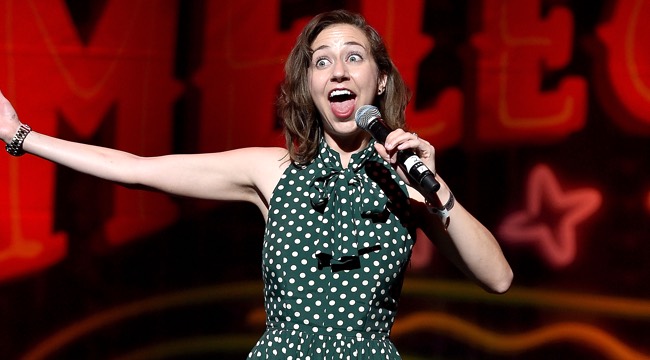 Charlie needed a golden ticket to visit Willy Wonka's chocolate factory, but apparently all it took for Last Man on Earth star Kristen Schaal to get a chance to see where sex toys are made was a bit of incidental free publicity on a late night talk show. Apparently, Schaal mentioned that a sex toy manufacturer was located next to where Last Man is filmed. The company, Pipedream, got wind of this and invited Schaal and her co-star, Will Forte, to take a tour of the grounds of Pipedream Products in Chatsworth, California, on October 26. Sabrina Dropkick (who has, quite possibly, the greatest name ever) wrote on Pipedream's official blog:
"the LMOE rep had to contact us multiple times to increase the size of the tour because as word got around the LMOE office, everyone wanted in on the typically NSFW fun!"
The blog shows a fun gallery of the tour that is relatively tame and not unfit for visual consumption. As it turns out, a dildo factory is just like any other type of work environment in many ways. According to Dropkick, Forte was very serious and anxious to learn as much as he could from the tour. Dropkick writes, "He was super intrigued by everything."
And can you blame him? It's not every day you get to go on such a monumental tour.
(Via A.V. Club)