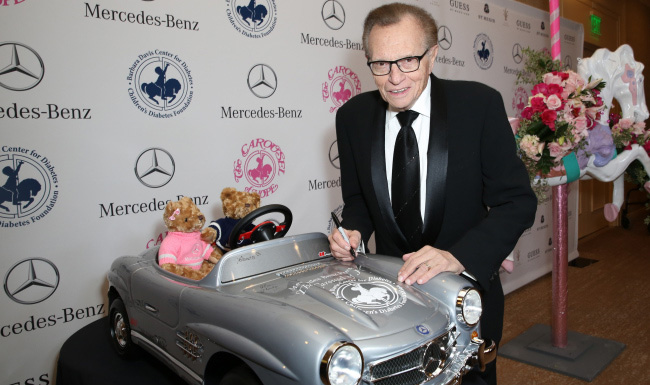 Larry King has a lot to say. This shouldn't be a surprise to anyone who has followed his career or follows him on Twitter, but we bring it up again now because Larry King got the big fancy profile treatment in the latest New York Times Magazine, and… Larry King has a lot to say. You should read it. It's really quite something. In addition to weighing in on religion, his feud with Piers Morgan, death, the state of cable news, human grown hormone, having his body frozen, and radishes, Larry also… Larry had a lot to say.
After mistakenly calling ISIS "Iris" during an interview:
This was not the first time King had called the terror brigade "Iris." He has history with an Iris — Iris Siegel, a long-ago teenage crush. "Iris Siegel was every boy at Lafayette High School's masturbatory fantasy," King told me, and then for some reason felt that this required elaboration. "We all masturbated to Iris Siegel!"
So, two things: One, imagine Larry King, in his Larry King voice, shouting "We all masturbated to Iris Siegel!" and then enjoy never being able to get it out of your head until you die. Two, imagine poor Iris Siegel's grandchildren flipping through the New York Times Magazine and stumbling across a quote about how Larry King and his rascal testosterone-pulsing pals all used to jack it to Meemaw back in the day. That would be, at the very least, somewhat disquieting.
On his dream to be invisible one day:
He told me he would like the ability to go back and forth between visible and invisible. He could still have dinner with friends. And then he could make himself invisible and follow them home. "Would I like to see my friends having sex? Yes."

He added the caveat that his friends wouldn't be at their current ages. "Unless they have pretty wives."
So, two more things: One, imagine the faces of Larry King's friends when they read that. Two, Larry.
And finally, uh, let's let Larry take this one:
"Oh, I would love to interview Hitler," King said. Ideally, it would be several years after World War II, had Hitler lived. King might prepare a little bit ("maybe I'd skim 'Mein Kampf' or something") but would mostly improvise. "Hitler had a mother," King said, and he would want her to come on his show too. He chuckled at the thought. "I'd ask her, 'Why didn't you have an abortion?'"
The more Larry King opens up, the more it becomes clear how accurate Norm MacDonald's impression of him was.
(Via NY Times Magazine)