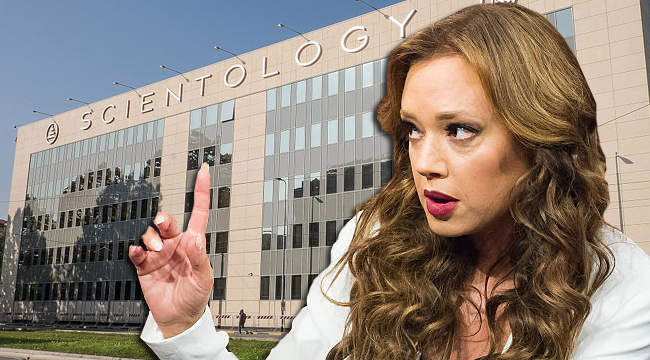 Actress Leah Remini has been vocal about how messed up she feels Scientology is since she left the religion in 2013. In a 20/20 interview last year, Remini spoke about the punishing conditions she endured in the church's Sea Org, and that time Katie Holmes wrote her up to Scientology brass over an incident that happened at her wedding to Tom Cruise. Now Remini is producing a TV show about Scientology around the theme of how it "rips apart families." Sounds like this will be a bit heavier than The King of Queens.
According to The Underground Bunker, journalist Tony Ortega's website that's dedicated to exposing Scientology, Remini's series is already shooting, and will appear on the same network as another show about Scientology's disconnection policy. Disconnection came up when a former Scientologist couple took out a billboard in Los Angeles that was addressed to their children. In this process, the children cut off contact with them per church dictate. In many cases, Scientology disconnection involves being cut off from friends and church-related relationships. Remini's series seems to tackle similar subject matter since it will focus on how the religion breaks even familial bonds.
Last year, a private investigator was sentenced to three months in jail for hiring people to hack Ortega's email, and the email account of another Scientology critic, Mike Rinder. Remini has gotten off comparatively easier, with Scientology leadership releasing an occasional statement about her when she speaks out. Now that she's producing a television series about them, there's potential that they'll get more aggressive.
(via The Underground Bunker h/t LAist)