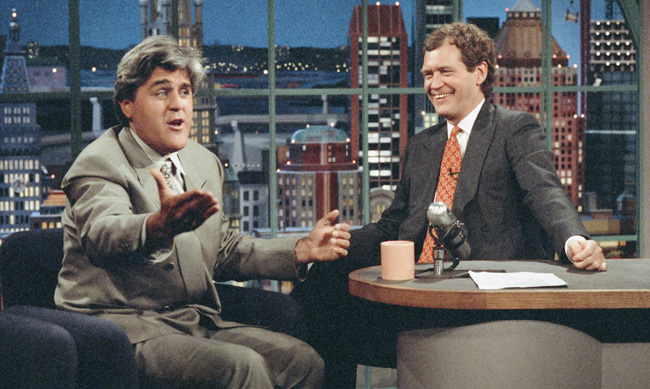 Back when David Letterman was winding down his run at The Late Show, there was a kind of open secret floating around that he had invited his old rival Jay Leno to stop by for an appearance. Despite plenty of smoke in the press for a few weeks, the big grand finale came and went without any fire materializing. No pop-in, no video goodbye, no pulling up to the the Ed Sullivan Theater in a classic car that runs on oil-soaked denim scraps, nothing. And now, in a new interview with AdWeek, Jay Leno is explaining his decision to decline the invitation.
Well, I asked Dave to do a 10-second tape for us [when I left]. Anything, just, "Leno who?" They said no, they didn't want to do it. Well, why am I going to run all the way to New York? I mean, quid pro quo. I just said, "No, that's kind of silly."
That answer somehow sounds both reasonable and a little petty, which is pretty much par for the course for these two. Bill Carter's book, The Late Shift, about the two of them jockeying for post-Carson late-night dominance, is basically a few hundred pages of this type of thing. And it's not like Letterman didn't find unending glee in poking at Leno over the years, too, especially as the Conan-Leno situation was falling apart. The two of them are probably best staying far apart or just biting the bullet and getting married. No half measures.
(Via AdWeek)