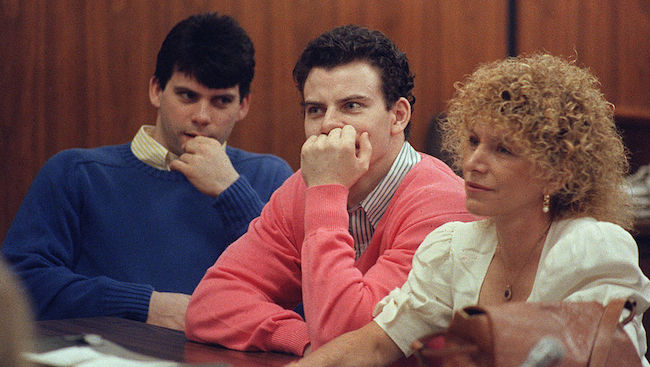 True crime stories are a hot commodity right now and Lifetime is looking to cash in on the trend. Variety reported Lifetime has given the green light to an original movie based on the Menendez Brothers murder case. And to sweeten the pot, Courtney Love is attached to star as the brother's mother Kitty. Love's casting may be a head scratcher, but this is a Lifetime movie we are talking about.
The film will take a closer look at Lyle and Erik Menendez, who were convicted in 1994, for the murder of their parents Jose and Kitty Menendez. The trial was a national sensation, as the brothers had testified the murders were driven by the lifetime abuse committed by their fathers. The first trial ended in a deadlocked jury, but the brothers were then convicted in a second trial and sentenced to life in prison.
With the success of American Crime Story: The People v. O.J. Simpson and O.J.: Made in America, executives were scrambling to find the next true crime story they could adapt. CBS took a swing with The Case Of: JonBenet Ramsey, but the Menendez Brothers case appears to be the hot commodity. ABC had a documentary in January, Truth and Lies: The Menendez Brothers, which was a success. And Dick Wolf is hoping to release his anthology series Law & Order: True Crime – The Menendez Murders for NBC later this year.
Love is just the first start to be attached at the moment, but there should be announcements for the three other Menendez family members on the horizon. And with this being a Lifetime movie, they should be interesting.