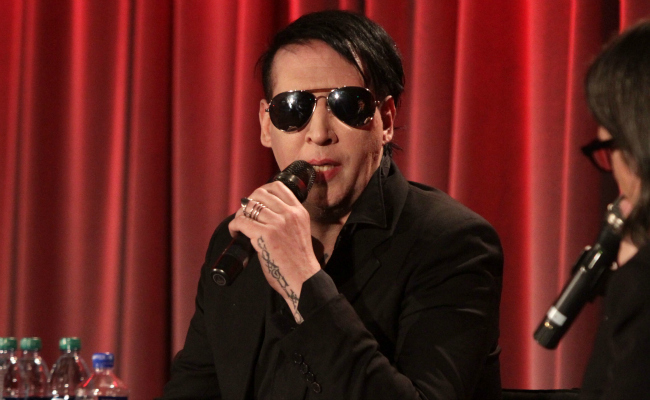 According to a breaking (!!) press release, "Legendary Music Icon Marilyn Manson" has joined the "Witch Wars in WGN America's Spellbinding Original Drama Salem." You guys watch Salem, right? That show on WGN America about witches that stars Shane West (he's still doing stuff? that's great), Janet Montgomery, and a bunch of other people I've never heard of? Okay, so none of us watch Salem, which is totally fine. But that may soon change for those of us who are rabid fans of Marilyn Manson, the goth-rocker whose biggest accomplishment to date was getting every fifth grader in America to argue incessantly over whether or not he'd cut out his own ribs so he'd be able to fellate himself.
Before we explain Manson's role, let's review, together, a brief summary of what is currently happening on WGN America's Salem, courtesy of said press release:
Continuing its bloody, sexy and fantastical reimagining of Colonial America [What? have I been sleeping on Salem??], Salem's third season dawns with the triumph of the witches' plan to remake the New World by bringing the devil to earth and making Salem his capital [Okay, so the devil is putting down roots in Salem. We're with you so far, WGN America]. But the devil is a liar, […right, that's like, his thing] and instead of a New World free from murderous Puritan hypocrisy, his own plan will bring nothing but death and slavery with the ultimate aim of leading humanity to destroy itself [again, that's his thing]. And there's only one person on earth who can beat the devil — the very witch that birthed him, his mother, Mary Sibley [Oh, good, Janet Montgomery]. The only problem is—she's dead. [Oh.] Or is she? [What?]
I think I speak for all of us when I say Salem sounds insane and we've all made a huge mistake. Somewhere in the midst of this hot Colonial mess, Manson will portray Thomas Dinley, a "barber and surgeon who is the go-to man in Salem, from a shave and a haircut to being leeched, bled, sliced open, or sewn up." Wait, why don't we have this in real life? Thanks, Obama.
Die-hard Salem fans will note that this isn't Manson's first appearance in the bloody, sexy Colonial America painstakingly wrought by the bloody, sexy WGN America. Manson previously collaborated with Tyler Bates on the show's opening title sequence, a "hauntingly dark track" called "Cupid Carries A Gun." (Sample lyrics: "She had those crow black eyes/Starless, but she f*cks/Like a comet.") Nor is this Manson's first acting gig — he's played a neo-Nazi on Sons of Anarchy, played himself on Californication, and stroked his terrifying mustache in Jawbreaker, among other roles. And, of course, he also starred in all of our fifth grade nightmares as the (allegedly) ribless wonder.