Welcome to our weekly chronicling of Mayans M.C. episodic moments that live up to the depraved mindset of the series' co-creator, Kurt Sutter, whose 'Sons of Anarchy' previously included some seriously depraved gems over the course of seven seasons. Be on the lookout later this week for Dustin Rowles to expertly read too much into this episode while diving deep into the episode's callbacks and theories about where this new club goes from here.
We're halfway through Mayans M.C.'s first season, and the series is starting to hit a stride not only in terms of club development but characters who are growing in popularity on Reddit and social media streams. Within a universe with established expectations, that's a storytelling accomplishment, given that a built-in audience is also a tough one. Last week not only saw Angel be crowned as the "new Tig," but crazy scenes began to crop up. That trend continues in the sixth episode, "Gato/Mis" (Spanish/Mayan for "cat") — holy bejesus, there are too many gratuitous cat references during this episode — which allows certain players to shine while also bringing back an eerily familiar face from the SAMCRO years. There's a well-executed car chase and a brutal fistfight, and Adelita demonstrates that she's just as savage as her ultimate foe.
The prospect, in particular, endures a rough ordeal.
While aiming to further ingratiate himself to club members, EZ ends up sort-of babysitting Coco's 16-year-old daughter, Letizia ("Letty"), who sheepishly unveils the dead body of an abusive trucker in her grandma's trunk. EZ, who also must fend off Letty's skin-crawling advances (she is a minor), resolves to put the guy back in his truck and make it look like he got jacked, but of course, nothing goes as planned. Soon enough, he's a kickin' and a gougin' in the mud and the blood and … a Boy Named EZ (not quite) … with some "concerned" truckers. Along with a visceral bone snapping, we're getting some Sutter-grade gristle when Letty appears and unleashes hell with a screwdriver.
Is Letty an asset because she "saved" EZ? Not so fast. She soon proves to be even more of a handful because she had stolen grandma's car, and EZ gets pulled over. Letty does get to deliver a line in manner of her estranged dad ("my bad") before an extended chase scene ensues.
From a Sons universe standpoint, this is a pretty magnificent chase. Tunnels and fences are no match for EZ, and the cop cars can't keep up while he plows through a field and triggers an irrigation system to erase his fingerprints. While he digs through vegetation to flee, there's a gorgeous, panned-out shot of where he's hiding. For his trouble, Coco profusely thanks him for "the sh*t that you did for me," which he wouldn't expect from anyone, club or civilian. All's well that ends well, for now, and the budding father-daughter relationship seems more like a brother-kid sister dynamic, which Letty definitely needs while staring at a shirtless EZ, who's gentleman enough to wash up after his adventure.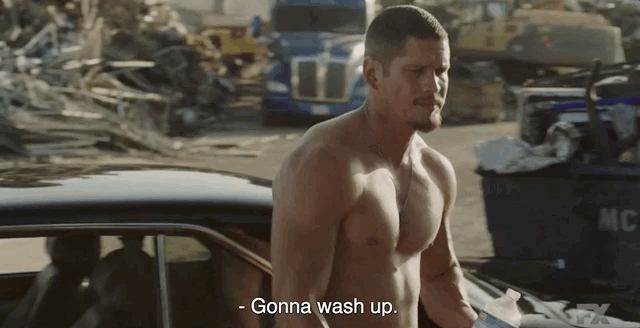 Yup, the showrunners took awhile to pull out the beefcake card. Yet they're fully aware that viewers have braced themselves for biker butt shots, and we received the first sex montage last week, so a shirtless prospect was to be expected. From here, expect them to raise the skin-baring stakes even more.
The closing scene of this episode is *kisses chef fingers* when an eccentric Sons character descends to (we hope) do more than Chucky does (he's still acting porn-y at the scrapyard and confusing everyone about the mole's identity). Here's how this goes down, and it's all kitty-kat themed, given the title of the episode. EZ does a double take on this guy, and you might, too.
The cat who was nuzzling EZ's legs follows him out of the scrapyard, and an unmistakable voice declares, "Lovely night for a walk." The recipient of that statement clearly feels uneasy, although he's not sure why. As it turns out, the speaker is Assistant U.S. Attorney Lincoln "Linc" Potter (Ray McKinnon), a fellow biker who made Juice's life hell in Sons season 4. In this chapter, Linc appears no less skeevy, peculiar, and emotionless than viewers will recall. "Awwww, tell me, my wise feline friend," he croons while plucking up the cat. He rhetorically inquires, "What unspeakable truths lie twisted among the scrap?"
One wonders exactly what showrunners Kurt Sutter and Elgin James plan to do with Linc. He was mostly a Sons antagonist, but one of his big goals was to turn Juice (and later, Otto) into a rat, and he was last seen after the Charming Heights investors saw their enterprise implode (though he was focused elsewhere, against the Galindo cartel, while trying to push a RICO case onto SAMCRO). It's hard to imagine that he's here to turn EZ into a traitor since that's already in process, per the DEA, but maybe he's here to thwart the Galindo development? As Rowles pointed out last week, property deals seldom go well in this universe. Perhaps he'll butt heads with the feds who are watching EZ, but if nothing else, we might get to see Linc helm a fantastic war room again while brandishing sticky notes and toting blow-up dolls everywhere. One can only hope.
Finally, and on the rebel side of things, Adelita's taking major steps, as well. Miguel — still in afterglow after his hate-love bang with Emily — receives a phone call from the rebels about where to find his baby. He gravely errs by reacting like a father, first, rather than a drug lord. This ends very badly for Miguel, who falls prey to a drug-tainted blanket and winds up in detention. He will likely learn from this "misstep" and adjust his behavior accordingly in the future, but Adelita wins this round. She has sidelined the cartel leader, and she later demonstrates her hidden ferocity by executing the child mole (who's acting as a Galindo spy) in her operation.
By having the traitor boy killed, Adelita shows that she's equally as ruthless as Miguel when it comes to achieving her goals of taking down the cartel "devil." And ironically, Miguel's own downfall might be that he acted with humanity and forgot his role during a desperate sprint to recover his son. Earlier, Adelita also revealed to Angel that her network of fellow rebels numbered in the thousands, which suggests that this rebellion has turned into a full-on war at the border. Clearly, she'll be working ceaselessly to bring down the cartel.
Mayans M.C. airs Tuesday nights at 10pm EST on FX.