Welcome to our weekly chronicling of Mayans M.C. episodic moments that live up to the depraved mindset of the series' co-creator, Kurt Sutter, whose 'Sons of Anarchy' previously included some seriously depraved gems over the course of seven seasons. Be on the lookout later this week for Dustin Rowles to expertly read too much into this episode while diving deep into callbacks and theories about where this new club goes from here.
Mayans M.C.'s first season never claimed to fly straight, but much like the crows that gobbled up bread dipped in Jax Teller's blood, the series has flown a semi-full circle for the first time in this season finale, 'Cuervo/Tz'ikb'uul,' and that's Spanish/Mayan for (you guessed it) those same birds. Kurt Sutter wrote this episode, which was directed by series co-creator Elgin James. In the opening moments, a solo EZ zooms by some crows who appear to be picking at the carcass of a mangy dog (is this the same mutt who symbolically picked at dead crows while first appearing onscreen during EZ's series premiere introduction?). It's an interesting turn of events and possible foreshadowing.
Less literally, the episode intersects the Sons of Anarchy and Mayans M.C. mythologies and culminates in a party to celebrate the club's ascension up the Galindo cartel ladder. This leads them to interface with Charming's SAMCRO chapter and brings a few Sons members to Santo Padre. Most importantly, this includes Happy Lowman (David Labrava), remembered as the torture-loving sergeant-at-arms with an ironic nickname, who's crossing over into Mayans territory. As we find out in the episode's closing moments, Happy's a familiar face to EZ, and the future fallout could be enormous.
Happy, however, doesn't truly appear to reciprocate the prospect's recognition, but he's never been one to choose a telltale expression.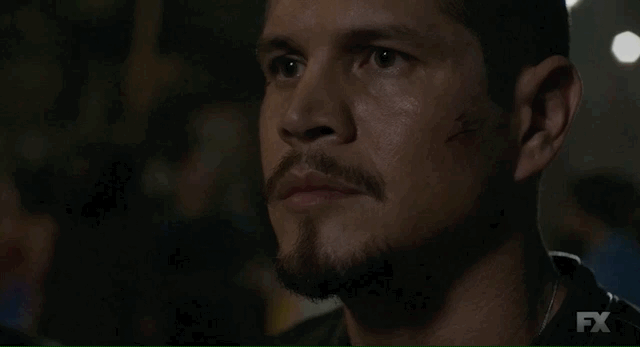 Aside from why Happy shows up (which we'll discuss soon), it's difficult to understand the full implications of what he's done. In a flashback, Happy was driving the car with the Wildcats sticker that belonged to the man who murdered EZ's mom. We see flashback-EZ slamming into the car and chasing a hooded Happy, but he accidentally shot a cop. This went down close to a decade ago, so how entrenched was Happy as a Son of Anarchy when he killed Mrs. Reyes? (When we first met Happy in Sons, he was part of a Washington charter before going Nomad and eventually settling in Charming. EZ's mom was murdered 8-10 years before Mayans M.C. began, so the timeline's bendable.) If Happy was a member of a charter, this could present massive hostility from the Mayans. Remember, Felipe once worked for the Galindo cartel, so some dots could connect if Happy was in SAMCRO, but if he was a Nomad, the impact might be different. (UPDATE: Sutter has clarified that Happy was Nomad during this murder, but he still doesn't know why there was a hit.)
Unless I'm overthinking this, it's a bizarre cliffhanger. (I'm totally overthinking it.) Also, why would anyone want to kill Mrs. Reyes unless it had something to do with the cartel?

Anyhoodle … before Happy showed his face in this finale, EZ (and his hideous new serpent tattoo) had crossed Angel again by defying his order to quit the club. Little brother faked out, decided that he was meant to be in the M.C., and asked Bishop to pick up his sponsorship, so the prospect is going nowhere, and Angel can't do a damn thing about it without risking his own hide. Especially since the two had only just killed and buried two federal agents (one being their 2nd cousin, Kevin Jimenez) at the insistence of Potter.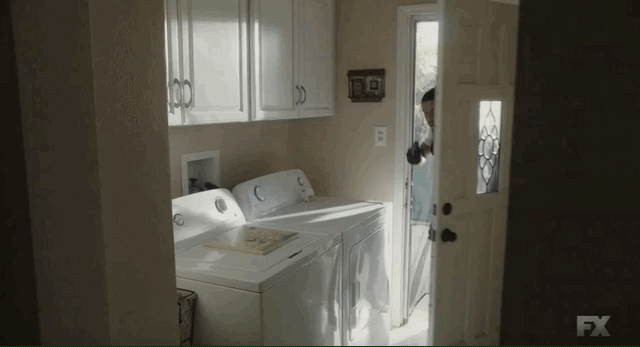 Potter is thrilled with the "ninja level work" from the Reyes brothers, but more disconcertingly, he wonders aloud whether he's staring at homemade pie. Angel, like the audience, grimaces at the question being posed in front of a blood-spattered wall. Yet there's no bargaining nor reasoning with Potter, who digs bare-handed into the pie while the brothers start disposing of the bodies.
The pie was store-bought, but otherwise, everything's coming up Potter. Earlier on and as Dustin Rowles surmised, Felipe had wanted to kill Jimenez for his sons, but he couldn't bring himself to become the monster he used to be. He also didn't want to see his youngest son become a monster, and now, it might be too late to stop the transformation. Or not? We'll see how next season goes, especially since Potter isn't going anywhere either. Even though he got his dead agent(s) and erased all evidence of EZ's federal deal as promised, he expects a further favor, given that the death scene was more "complicated" (although Potter engineered this) than originally directed.
Yet while the prospect is staying, one iconic Mayan is taking relative flight.
Goddamnit, Mayans Oakland charter President Marcus Alvarez took off his cut. Well, he did so after bringing the Santo Pardo Mayans and Charming Sons of Anarchy chapters together, so the Sons can supply guns to the cartel. Alvarez is thrilled about this "profitable peace," which was something desired by Jax Teller before he drove face first into a semi-truck. Now that Alvarez's promise is fulfilled — by summoning Happy and a few SAMCRO pals — he wants out of the club, but he's not leaving the show. Instead, he's going to work directly for the cartel as the metaphorical mover of chess pieces.
So, what's left? One hell of a mess for EZ, who must now reckon with whatever's going on with Happy. Angel's also incensed at him for not splitting after killing Jiminez, but EZ has decided that he should persist in a club-based existence. We also saw EZ daydreaming about his past with Emily, so that love triangle will surely return next season. Altogether, the finale presented some developments and answers that should thrill fans of the Sons universe, but it also (as expected) left plenty of loose ends for Sutter and James to play with in the already renewed second season. And play, they will.
'Mayans M.C.' airs Tuesday nights at 10 pm EST on FX.