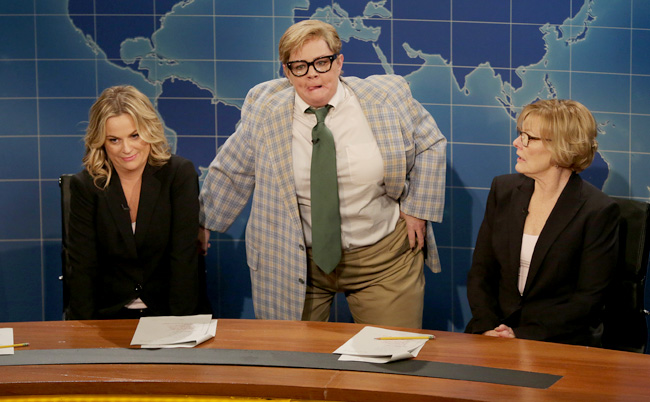 Melissa McCarthy was a guest on The Howard Stern Show this morning and, in the below interview segment, talked at length about her emotional tribute to Chris Farley on February's SNL 40 special. It almost didn't even happen, as Tina Fey was the one to write it in, but Farley was such an idol to McCarthy that she wavered back and forth on whether she could possibly do him justice in the first place. Thank goodness she decided she could, because she pulled it off so amazingly that the sketch was just the perfect amount of hilarious and bittersweet.
But what most people didn't know is that the suit McCarthy wore that night was Farley's actual Matt Foley suit, complete with authentic Chris Farley sweat stains and everything. McCarthy says that the first time she put it on, she burst into tears as she looked at herself in the mirror, which is a very understandable reaction.
Another revelation from the interview was that although McCarthy never knew Farley personally, she did serve him coffee one time while working at Starbucks. She also has a picture of him in her dressing room that she carries around with her wherever she goes.
I'd recommend listening to the full clip below, which is lovely. (May need to refresh page to get the player to load.)
[protected-iframe id="0f80b2cb16a488eb1dcac106deb7d377-60970621-60765065″ info="https://w.soundcloud.com/player/?url=https%3A//api.soundcloud.com/tracks/208265475&auto_play=false&hide_related=false&show_comments=true&show_user=true&show_reposts=false&visual=true" width="100%" height="450″ scrolling="no"]
(Via Soundcloud)