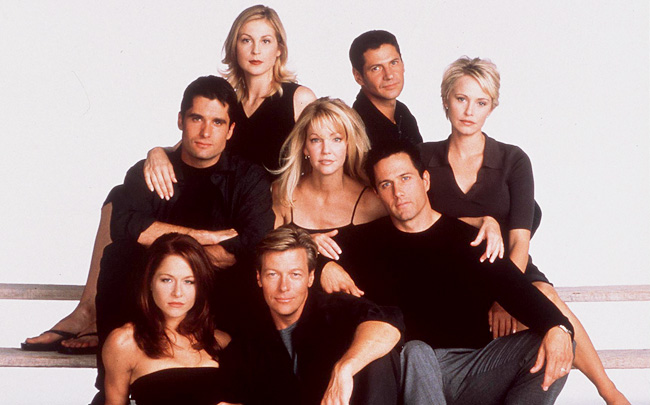 Because we all still remember exactly where we were when Kimberly ripped off her wig (my neighbor's house), Lifetime announced that their next tell-all will be The Unauthorized Melrose Place Story, according to the Hollywood Reporter. Sorry, Models Inc. fans. Maybe next time.
This will be the fourth installment in Lifetime's unauthorized tell-all movies of '90s series, following last year's The Unauthorized Saved by the Bell and its follow ups, The Unauthorized Full House (the cast of which looks amazing) and The Unauthorized Beverly Hills, 90210, both currently in development.
The Hollywood Reporter also has some insight to the plot of the Melrose Place tell-all, not that you probably couldn't just figure it out on your own:
Drawing on true stories and anecdotes from interviews with the original cast and crew, the Lifetime movie will highlight the remarkable behind-the-scenes moments that shaped the series — from early casting drama and Locklear arriving to "save" Melrose Place to the actors begging its writers for even wilder storylines to make them fan favorites.
In other words, expect some hot actor-on-writer fruit basket action. I also hope we find out what Kristin Davis did to piss off somebody behind the scenes, because the onscreen death of her horrible character was one of the most unintentionally hilarious television scenes of the '90s.