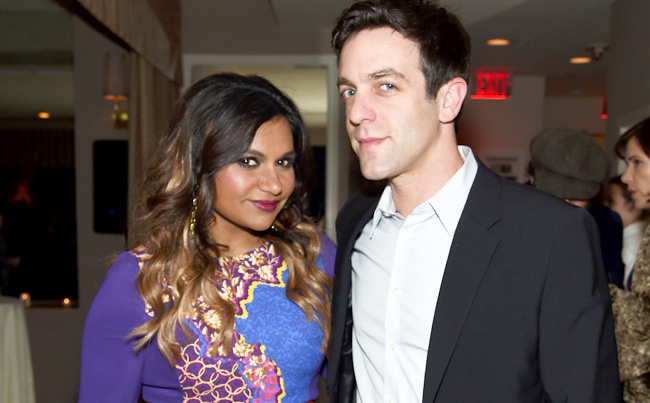 Mindy Kaling and B.J. Novak will reportedly be paid $7.5 million to write a book about their are they-aren't they, were they-weren't they relationship that has for some reason always been a topic of interest and speculation, because everyone wants to see Ryan and Kelly together IRL. According to the New York Daily News, Kaling will make the formal announcement next week on May 30 at New York City's BookCon, where she'll be talking about her upcoming book of essays, Why Not Me?
Kaling and Novak have never been public about the nature of their relationship, until last September when Kaling told Howard Stern that she and Novak had previously dated, and that he had broken it off with her, despite the fact that she claims she would have married him at the time. Her admission did nothing but fan the flames, however, and their occasional flirting on social media doesn't help much, either.
In the June 2015 issue of InStyle, via NYMag, Kaling said of the relationship:
I will freely admit: My relationship with B.J. Novak is weird as hell. He is not my boyfriend, but he is not my best friend. I guess you could describe our relationship as a "romantically charged camaraderie with loud arguments," but I don't think Facebook would accept this as a new status.
If I had to guess, I'd say their book will either set the record completely straight once and for all, or make things more convoluted than ever. I'd bet on the latter.
(Via Vulture)