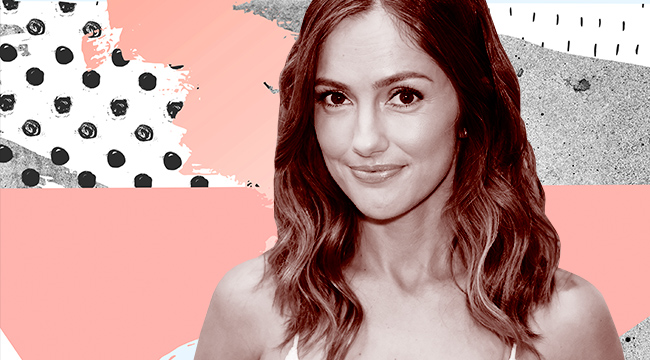 Minka Kelly is probably best known for her role on Friday Night Lights but you may also know her from shows like Parenthood and Jane the Virgin, as well as films like The Roommate, The Butler, and (500) Days of Summer. Recently, Kelly graduated from culinary school and is planning her own food show, and she also traveled to Ecuador and teamed with Dove Chocolate on a documentary series about responsibly sourcing cocoa beans and roasting beans using techniques rooted in European heritage.
Minka made some time recently to participate in our recurring questionnaire series.
1. You walk into a bar. What do you order from the bartender?
Mexican mule.
2. Who's your favorite person to follow on Twitter and/or Instagram?
@amandaseals and @annstreetstudio.
3. What's currently waiting for you on your DVR or in your streaming queue?
Catastrophe, Fleabag, and Chef's Table.
4. It's your last meal — what are you going out with?
Lasagna.
5. What websites do you visit on a regular basis?
6. What's the most frequently played song on your mobile device?
7. If you could go back and give your 18-year-old self one piece of advice what would it be?
Stop plucking your eyebrows.
8. What's the last thing you Googled?
"NY Times recipe"
9. Dogs or cats?
Dogs.
10.Best concert of your life was…?
James Blake blew my mind.
11. What book are you most likely to give as a gift?
12. What's the nicest thing anyone has ever done for you?
Smiled.
13. South Park or Family Guy?
Tie.
14. You have an entire day to do whatever you want. What would you do?
Eat – hike with dogs – eat – see movie or live music – eat.
15. What movie can you not resist watching if it's on?
Purple Rain.
16. The sports team or teams you're most passionate about?
(No answer)
17. Where did you eat the best meal of your life?
18. The last movie you saw in a theater?
(No answer)
19. Who was your first celebrity crush?
Warren G.
20. What would you cook if Nic Cage was coming to your house for dinner?
(No answer)
Previously: Betty Gilpin