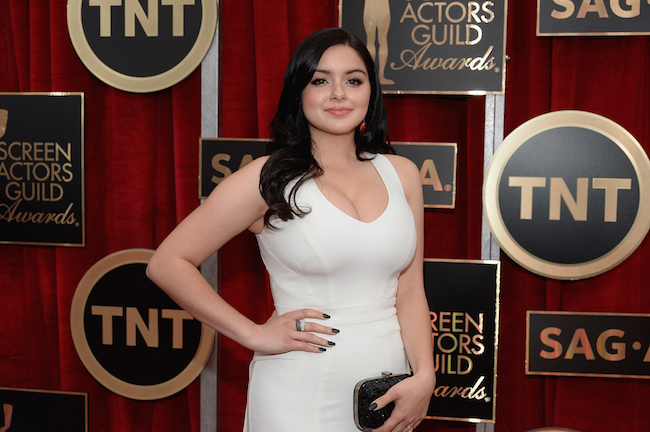 Seventeen-year-old Modern Family star Ariel Winter is not a fan of 18-year-old Vine star Nash Grier, who put out a request to his fans this week to post their favorite #FavNashVid videos. Winter — who was officially emancipated from her mother last year — belied her age and took the occasion to remind everyone of Grier's homophobic history.
"#FavNashVid that one time when he was just super homophobic and ignorant? #whydoyouhavefans," she wrote on Twitter, referring to a video Nash made four years ago where the Vine star made a video sarcastically suggesting that getting HIV tested "is not a gay thing" before turning the camera on himself and screaming, "Yes it is, f–!"
Maybe that's something one can chalk up to the immaturity of a 14-year-old, which is what Nash — who has apologized for the video — has suggested in the past, saying he was "young, ignorant, stupid and in a bad place." Ariel Winter, however, was not willing to chalk it up to youthful indiscretions, but rather saw the video as symptom of his disease.
In her response, Winter suggested that Nash was making bigoted, offensive videos before he was 14 and continued to do so after, reminding him of Islamophobic tweets he's made, Vines he made mocking Asians, and a misogynistic YouTube video. Winter would not let Nash off easily.
"How can one person say so many terrible things on every end of the spectrum and never realize they're wrong? I also don't buy that you were young and didn't understand the impact of your words. We live in America, not under a rock. You and I are fortunate enough to have access to television, the internet, magazines, etc that daily stress to us the importance of social and racial tolerance."

"I remember seeing this stuff before I was 14. When we were 14, teenagers were committing suicide from comments like yours."

"You only apologized for that video and stopped using that phrase after it started affecting your pocketbook and chipping away at your fame … So, no, I don't believe your views have changed. I just believe your forum for spouting them has changed."
A day later, Nash attempted to take the conversation out of public view, but Winter was having none of it.
Winter — who called out body-shamers a few months ago for comments they made about an innocent photo of her in a bikini — has proven herself to be quite social-media savvy, and she's wisely using that savviness and maturity to target bullies and bigots. She's clearly taking cues from Modern Family writer Danny Zuker, who once completely leveled Donald Trump on Twitter for ignorant remarks.
(Via People)