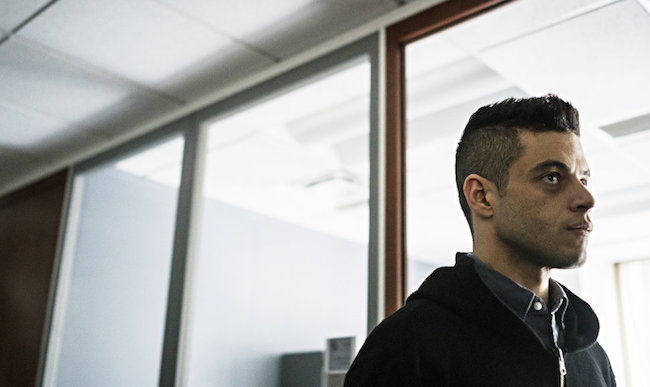 Mr. Robot, one of the most visually distinctive shows on television, only has one season left. Where once it was unofficial, with Christian Slater believing that season four "will be the last season," it's now official after The Hollywood Reporter confirmed that the Emmy-winning series "will conclude in 2019 with what sources say is an expanded 12-episode order." That's an increase from season one and three's 10 episodes, but the same number as season two:
Season four, announced in December 2017, was originally set to feature another cycle of eight episodes (its lowest order to date) but sources say that order has now been expanded to 12 (which mirrors its sophomore run). Sources say producers including [creator Sam] Esmail toyed with the idea of plotting out a fifth season. (Via)
With a show like Mr. Robot, with its constant paranoid plot twists, less is more, so wrapping up after four seasons is probably a good call, even if last season was a return to form. ("eps3.4_runtime-error.r00" is an incredible achievement and, like every Mr. Robot episode, incredibly annoying to type.) In a statement, Esmail confessed that he thought Mr. Robot "would be a niche television series with a small, cult following," but since it premiered, "it has become so much more, and I am continually humbled by the show's recognition and by the amazing cast and crew that work tirelessly to help bring my vision to life."
He continued, "Since day one, I've been building toward one conclusion — and in breaking the next season of Mr. Robot, I have decided that conclusion is finally here. Everyone on the creative team, including the amazing people at USA and UCP, didn't want to say goodbye, but we ultimately have too much respect for Elliot's journey to extend past its inevitable ending. Therefore, season four will serve as the final chapter of the Mr. Robot story. To fans of the show: thank you for the past three years, and I can't wait to share this exciting final season with you."
It will never not be amazing that a show called MR. ROBOT turned out as good as it did.
(Via The Hollywood Reporter)