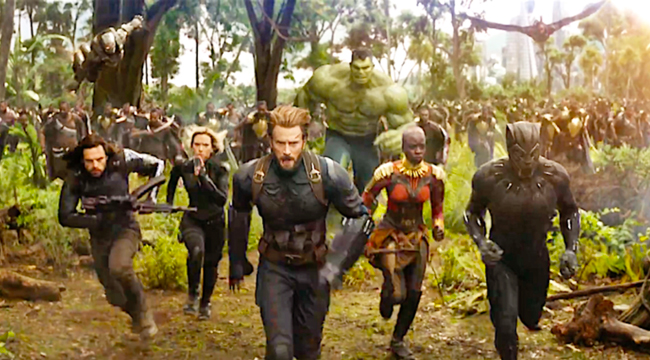 December's almost arrived, and while you're zoning out in holiday mode and spending all that time with family, you might appreciate the distractions that binge watching has to offer. And along with tons of bonuses like a holiday special from the Chilling Adventures Of Sabrina, Netflix is here with a full lineup of new originals and licensed content to oblige any whim for lovers of all genres.
The streaming platform's adding a wealth of films, shows, and returning favorites during the course of this month. We realize that it's difficult to keep up with everything coming to (and leaving) Netflix each month, so here's a rundown of what's going down on the streaming platform this December.
ARRIVING
Bird Box (Netflix original film streaming 12/21)
After John Krasinski's recently (and enormously) successful A Quiet Place captivated audiences with the gimmick of surviving while not speaking, the buzz around Netflix's Bird Box (based upon Josh Malerman's bestselling 2014 novel) has taken on a new layer beyond the ominous subject matter itself. Director Susanne Bier's vision, as shown in this trailer, takes the sense of sight away from its protagonist, and much like the vibe of Stephen King's Cell, all hell breaks loose as something causes anyone who can see to lose their minds in violent ways. Sandra Bullock plays a mother who must protect her children, and she does so while largely blindfolded as they flee the mayhem.
Roma (Netflix original film streaming 12/14)
Netflix is digging its heels into the impending awards season with this stunning black-and-white film, which is billed as the most personal project to date from Oscar-winning actor and writer Alfonso Cuarón. Roma follows a young domestic worker in Mexico City and functions as a love letter to the women who raised the director amid a scathing social hierarchy and the political turmoil of the 1970s. You'll want to see what all the buzz is about once the Oscar chatter truly begins, so stream away unless you're lucky enough to live near a limited theater screening.
Dumplin' (Netflix film streaming 12/7)
Dumplin,' a dramedy starring a Southern-fried Jennifer Aniston, aims to smash the unrealistic standards placed upon females not only in beauty pageants but elsewhere. The trailer grabbed attention for Aniston's comedic take on a character whose voice oozes deep-fried grease while running a beauty pageant. She's about two seconds away from a "bless your heart" yet truly loves her plus-sized daughter, Willowdean "Dumplin" Dickson (Danielle Macdonald), who decides to show the pageant world what they're missing by excluding so many hopefuls. Dolly Parton contributes original music, and expect plenty of feather boas, fake nails, and teased-up hair.
Avengers: Infinity War (Marvel Studios film streaming 12/25)
Netflix recently announced that they're gifting subscribers with the ultimate Thanos snap for Christmas, and while we await the fourth Avengers film that's scheduled for next May, you can relive the genocidal mayhem all over again. While that Spider-Man scene ("Mr. Stark, I don't feel so good…") certainly doesn't get any easier to watch upon repeated viewings, with all that action and an unbeatable superhero lineup on hand, both hardcore and casual comic book fans will stream this installment again, regardless.
Here's the full list of titles coming to Netflix in December:
Avail. 12/1/2018
8 Mile
Astro Boy
Battle
Bride of Chucky
Christine
Cloudy with a Chance of Meatballs
Crossroads: One Two Jaga (NETFLIX FILM)
Friday
Friday After Next
Hellboy
Man vs Wild with Sunny Leone: Season 1
Meet Joe Black
Memories of the Alhambra (Streaming Every Saturday) (NETFLIX ORIGINAL)
My Bloody Valentine
Next Friday
Reindeer Games
Seven Pounds
Shaun of the Dead
Terminator Salvation
The Big Lebowski
The Great British Baking Show: Masterclass: Season 5 Masterclasses
The Last Dragon
The Man Who Knew Too Little
Avail. 12/2/2018
The Lobster
Avail. 12/3/2018
Blue Planet II: Season 1
Hero Mask (NETFLIX ORIGINAL)
The Sound of Your Heart: Reboot Season 2 (NETFLIX ORIGINAL)
Avail. 12/4/2018
District 9
Avail. 12/6/2018
Happy!: Season 1
Avail. 12/7/2018
5 Star Christmas (NETFLIX FILM)
Bad Blood (NETFLIX ORIGINAL)
Dogs of Berlin (NETFLIX ORIGINAL)
Dumplin' (NETFLIX ORIGINAL)
Free Rein: The Twelve Neighs of Christmas (NETFLIX ORIGINAL)
Mowgli: Legend of the Jungle (NETFLIX ORIGINAL)
Nailed It! Holiday! (NETFLIX ORIGINAL)
Neo Yokio: Pink Christmas (NETFLIX ORIGINAL)
Pine Gap (NETFLIX ORIGINAL)
ReMastered: Who Killed Jam Master Jay? (NETFLIX ORIGINAL)
Super Monsters and the Wish Star (NETFLIX ORIGINAL)
The American Meme (NETFLIX ORIGINAL)
The Hook Up Plan (Plan Coeur) (NETFLIX ORIGINAL)
The Ranch: Part 6 (NETFLIX ORIGINAL)
Avail. 12/9/2018
Sin senos sí hay paraíso: Season 3
Avail. 12/10/2018
Michael Jackson's This Is It
Avail. 12/11/2018
Vir Das: Losing It (NETFLIX ORIGINAL)
Avail. 12/12/2018
Back Street Girls: Gokudols (NETFLIX ORIGINAL)
Out of Many, One (NETFLIX ORIGINAL)
Avail. 12/13/2018
Wanted: Season 3 (NETFLIX ORIGINAL)
Avail. 12/14/2018
Chilling Adventures of Sabrina: A Midwinter's Tale (NETFLIX ORIGINAL)
Cuckoo: Season 4 (NETFLIX ORIGINAL)
Dance & Sing with True: Songs (NETFLIX ORIGINAL)
Fuller House: Season 4 (NETFLIX ORIGINAL)
Inside the Real Narcos (NETFLIX ORIGINAL)
Inside the World's Toughest Prisons: Season 3 (NETFLIX ORIGINAL)
Prince of Peoria: A Christmas Moose Miracle (NETFLIX ORIGINAL)
Roma (NETFLIX ORIGINAL)
Sunderland Til I Die (NETFLIX ORIGINAL)
The Fix (NETFLIX ORIGINAL)
The Innocent Man (NETFLIX ORIGINAL)
The Protector (NETFLIX ORIGINAL)
Tidelands (NETFLIX ORIGINAL)
Travelers: Season 3 (NETFLIX ORIGINAL)
Voltron: Legendary Defender: Season 8 (NETFLIX ORIGINAL)
Avail. 12/16/2018
Baby Mama
Kill the Messenger
One Day
Springsteen on Broadway (NETFLIX ORIGINAL)
The Theory of Everything
Avail. 12/18/2018
Baki (NETFLIX ORIGINAL)
Ellen DeGeneres: Relatable (NETFLIX ORIGINAL)
Terrace House: Opening New Doors: Part 5 (NETFLIX ORIGINAL)
Avail. 12/21/2018
3Below: Tales of Arcadia (NETFLIX ORIGINAL)
7 Days Out (NETFLIX ORIGINAL)
Back With the Ex (NETFLIX ORIGINAL)
Bad Seeds (NETFLIX ORIGINAL)
Bird Box (NETFLIX ORIGINAL)
Derry Girls (NETFLIX ORIGINAL)
Diablero (NETFLIX ORIGINAL)
Greenleaf: Season 3
LAST HOPE: Part 2 (NETFLIX ORIGINAL)
Perfume (NETFLIX ORIGINAL)
Sirius the Jaeger (NETFLIX ORIGINAL)
Struggle: The Life and Lost Art of Szukalski (NETFLIX FILM)
Tales by Light: Season 3 (NETFLIX ORIGINAL)
The Casketeers (NETFLIX ORIGINAL)
Wolf (BÖRÜ) (NETFLIX ORIGINAL)
Avail. 12/24/2018
Hi Score Girl (NETFLIX ORIGINAL)
The Magicians: Season 3
Avail. 12/25/2018
Anthony Bourdain: Parts Unknown: Season 11
Marvel Studios' Avengers: Infinity War
Avail. 12/26/2018
Alexa & Katie: Season 2 (NETFLIX ORIGINAL)
YOU
Avail. 12/28/2018
Instant Hotel (NETFLIX ORIGINAL)
La noche de 12 años (NETFLIX FILM)
Selection Day (NETFLIX ORIGINAL)
When Angels Sleep (NETFLIX ORIGINAL)
Yummy Mummies (NETFLIX ORIGINAL)
Avail. 12/30/2018
The Autopsy of Jane Doe
Avail. 12/31/2018
The Bill Murray Stories: Life Lessons Learned From a Mythical Man
Also Coming in December
Watership Down: Limited Series (NETFLIX ORIGINAL)
Here's the full list of titles leaving Netflix in December:
December 1:
Cabin Fever
Cabin Fever 2: Spring Fever
Groundhog Day
Happily N'Ever After
Happily N'Ever After 2: Snow White
Hellbound: Hellraiser II
Hellraiser
Sons of Anarchy: Seasons 1-7
Spider-Man 3
Spy Hard
Stephen King's Children of the Corn
Swept Under
The Covenant
The Game
December 4:
Air Bud: Seventh Inning Fetch
Air Bud: Spikes Back
Air Bud: World Pup
Air Buddies
Cars Toon: Mater's Tall Tales
Spooky Buddies
Tarzan & Jane
The Brave Little Toaster Goes to Mars
The Brave Little Toaster to the Rescue
The Crimson Wing: Mystery of the Flamingos
The Search for Santa Paws
Tinker Bell
Tinker Bell and the Great Fairy Rescue
Tinker Bell and the Lost Treasure
December 7:
Trolls
December 10:
Battle Royale
Battle Royale 2
Teeth
December 15:
Step Up 2: The Streets
December 16:
Tinker, Tailor, Soldier, Spy
December 17:
Beverly Hills Chihuahua 2
December 19:
Ip Man: The Final Fight
December 20:
Disney's Moana
Food, Inc.
I Give It a Year
December 22:
Spotlight
December 25:
Disney's Pirates of the Caribbean: The Curse of the Black Pearl
December 31:
Troy