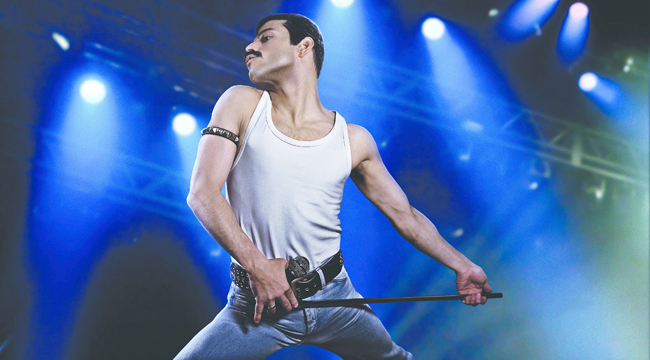 Summer's in full swing on HBO with a handful of blockbusters and a couple season finales to keep you inside and away from the heat.
First up is the season two finale of Big Little Lies, which sees the Monterey Five reckon with their involvement in the murder that's fueled most of the show's action thus far. Sarah Jessica Parker returns for another round of her drama about a couple navigating post-divorce life. And for the cinephiles, Bohemian Rhapsody and First Man are just two of the theatrical premieres happening this month on the streaming platform.
Here's a roundup of everything that's coming to (and leaving) HBO this July.
Big Little Lies (season 2 finale)
The second installment of this murder-mystery series wraps up this month with the Monterey 5 struggling to come clean about their involvement in a shocking death that ended the show's first season. The women have suffered in silence for most of season two, with Bonnie (Zoe Kravitz) going into a deep depression over her hand in Perry's death, Celeste (Nicole Kidman) trying to pick up the pieces and move on with her boys, and Jane (Shailene Woodley) telling Ziggy about his father's true identity. We've also been treated to some brilliant performances from Reese Witherspoon, Laura Dern, and Meryl Streep, so expect the season two finale to pack on the crazy, memeable exploits of this rich socialites.
Divorce (season 3 premiere)
Sarah Jessica Parker returns for more post-divorce drama as her character gains a new love interest in season three of HBO's hit series. Parker's Frances entertains the attention of a new suitor even as she faces some surprises that spin her life and her relationship with ex-husband Robert (Thomas Haden Church) in unexpected directions. Liz Tuccillo (Sex and the City) is taking over as showrunner this season, which should please fans tuning in because of their love for Parker's other HBO success.
Bohemian Rhapsody
Despite the controversy surrounding this musical re-telling of Queen singer Freddie Mercury's colorful life, its star Rami Malek did take home the Oscar for his portrayal of the icon, which is reason enough to watch. There's also some great music, funny bits with Malek parading around parties in increasingly ridiculous get-ups, and a shot-for-shot reenactment of Mercury's most famous performance — his Live Aid concert.

First Man
Damien Chazelle reteams with his La La Land collaborator Ryan Reynolds for a wholly different adventure — one that takes place in space sans musical numbers. Gosling plays Neil Armstrong, the first man to walk on the moon, as he readies for the moment that will cement his name in history. Claire Foy plays his wife, Janet, and most of the film is dedicated to showing the struggles and losses the family faced ahead of Armstrong's monumental feat.
Here are all the titles coming and going on HBO NOW in July:
Original Programming:
Hackerville (7/1)
I Love You, Now Die, Part 1 (7/9)
I Love You, Now Die, Part 2 (7/10)
From the Earth to the Moon (7/15)
Behind Closed Doors, Part 1 (7/16)
Behind Closed Doors, Part 2 (7/17)
Who Killed Garrett Phillips?, Part 1 (7/23)
Who Killed Garrett Phillips?, Part 2 (7/24)
HBO First Look: Fast & Furious Presents: Hobbs and Shaw (7/26)
Share (7/27)
Unmasking Jihadi John: Anatomy of a Terrorist (7/31)
Series Premieres:
Divorce, Season 3 (7/1)
Series Finales:
Sesame Street, Season 49 (7/13)
Los Espookys, Season 1 (7/19)
Big Little Lies, Season 2 (7/21)
Years and Years, Miniseries Finale (7/29)
El Jardin de Bronce, Season 2 (7/29)
Theatrical Premieres:
Victor Crowley, 2017 (7/1)
American Nightmares, 2018 (7/1)
Thoroughbreds, 2017 (7/5)
Bohemian Rhapsody, 2018 (7/6)
Fantastic Beasts: The Crimes of Grindelwald, 2018 (7/13)
First Man, 2018 (7/20)
Red Sparrow, 2018 (7/23)
Widows, 2018 (7/27)
Estrenos:
El Astronauta (AKA The Astronaut), 2018 (7/1)
My Name Is Maria De Jesus, 2017 (7/1)
Yo Soy Taino (AKA I Am Taino), 2019 (7/1)
Lino, una aventura de siete vidas, 2017 (7/5)
A Boy Called Sailboat, 2018 (7/12)
Miriam Miente (AKA Miriam Lies), 2018 (7/19)
Natacha, 2017 (7/26)
Starting July 1:
The A-Team (Extended Version)
A Nightmare on Elm Street, 2010
An Ideal Husband, 1999
By the Sea, 2015
Cyrus, 2010
Dead Man on Campus, 1998
Doppelganger, 1993
Elektra (Director's Cut), 2005
The Hoax, 2006
I, Robot, 2004
Justice League, 2017
Keeping Up with the Steins, 2006
Little Fockers, 2010
The Manchurian Candidate, 1962
Me, Myself & Irene, 2000
The Mother, 2003
Mr. Right, 2005
MXP: Most Xtreme Primate, 2004
Notting Hill, 1999
The Ring Two (Extended Version), 2005
Rush Hour 2, 2001
Sgt. Stubby: An American Hero, 2018
Term Life, 2016
Wall Street: Money Never Sleeps, 2010
Wallace & Gromit: The Curse of the Were-Rabbit, 2005
When We Were Kings, 1996
Without a Paddle, 2004
Ending July 31:
The American President, 1995
The Beach, 2000
Blockers, 2018
Collateral, 2004
The Count of Monte Cristo, 2002
Crimes and Misdemeanors, 1989
Dangerous Minds, 1995
Dawn of the Dead, 2004
Freaky Friday, 2003
Ideal Home, 2018
In the Name of the Father, 1993
In the Valley of Elah, 2007
Isle of Dogs, 2018
Life of the Party, 2018
Love Potion No. 9, 1992
Never Been Kissed, 1999
The Outsiders, 1983
The Prince & Me, 2004
Ready Player One, 2018
Reign of Fire, 2002
Secret Window, 2004
Spies Like Us, 1985
Striptease (Unrated Version), 1996
Traffik, 2018
Valentine's Day, 2010
You Got Served, 2004