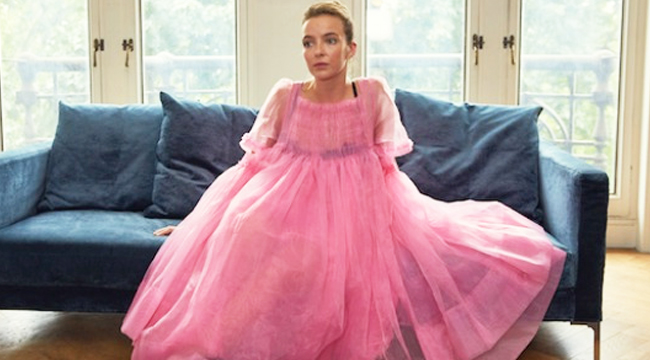 Normally Netflix is flooding our queues with a smorgasbord of shows and movies we can't wait to watch, but Hulu's stepping up their game this December, churning out new seasons of superhero shows, a horror anthology special or two, and bringing some quality films to our TV sets. Marvel fans will be pleased to know that Hulu's Runaways series returns for a second, and just as exciting, season of the teen hit as fans expect. Meanwhile, anyone who missed out on the brilliant Killing Eve will have the whole month to binge the show. Here's everything coming to (and leaving) the streaming platform in December.
ARRIVING
Killing Eve: Complete Season (12/1)
In case you missed out on this spy thriller starring Sandra Oh and Jodie Comer, Hulu's giving you a second chance to bask in the glory of these two brilliant actresses who go head-to-head in a gripping, globe-trotting game of cat-and-mouse. Oh (who earned a history-making Emmy nomination for this role) plays the titular Eve (Polastri), a British Intelligence operative obsessed with catching an elusive assassin named Villanelle (Comer). Villanelle is a psychopath, one with a dark past and a love for the work she does — she's damn good at it too — and the two capable women soon find their lives entwined in ways neither of them expected.
Marvel's Runaways: Season 2 (12/21)
After the band of friends discovered their parents were the real supervillains at the end of season one, season two of Marvel's Runaways catches up with the gifted group of teens as they go, well, on the run. Trying to escape their parents' control, the crew hides out in an underground lair — think the Batcave but for supernaturally talented, hormonal kids — as they welcome new allies and fight for their freedom.
The Wonder Years: Complete Series (12/1)
Nostalgia alert: Hulu's bringing back a beloved family sitcom just in time for the holidays. The Wonder Years was a family comedy series set in the late '60s that centered on a young kid named Kevin Arnold as he navigated growing up and all of the obstacles and joys that entailed. It's the kind of feel-good content we've been missing as of late, and whether you've seen every episode or you're just tuning in for the first time, you won't regret watching.
DEPARTING
Ocean's Eleven (12/31)
Sorry, George Clooney fans. It looks like Hulu's getting rid of the entire Oceans trilogy. Of course, the first installment of Steven Soderbergh's heist series remains the best which is why we're already lamenting its loss. Clooney stars as Danny Ocean, the mastermind behind a Las Vegas heist who recruits some talented thieves (played by A-listers like Brad Pitt, Matt Damon, Don Cheadle, and more) to help him steal cash from a ruthless nemesis and get back his girl. It's the kind of slick, Rat-Pack-esque drama we need more of.
XXX (12/31)
Sure, Vin Diesel is a bonafide action star, but his greatest work in the genre isn't his Fast & Furious franchise, it's this action thriller starring Asia Argento and Samuel L. Jackson. Diesel stars as Xander Cage, an extreme sports enthusiast recruited by the government to infiltrate a group of Russian terrorists in Central Europe. His spy skills leave something to be desired, but Diesel can pull off death-defying motorcycle stunts and high-speed boat chases with the best of them.
Die Another Day (12/31)
James Bond fans you're in the same boat as our Clooney pals this month. A host of titles from the spy franchise are making their exit at the end of December including this gem starring Pierce Brosnan and Halle Berry. It's not the best James Bond film of all time, but Berry kills as an NSA agent named (wait for it) Jinx Johnson.
Here's the full list of titles coming to Hulu in December:
Avail. 12/1/18
24: Complete Series
24: Redemption: Special
Behind Tasty: Complete Season 1
Buzzfeed Unsolved: Sports Conspiracies: Complete Season 1
Killing Eve: Complete Season 1
The Wonder Years: Complete Series
UniKitty: Complete Season 1A
Worth It: Complete Season 5
12 Dates of Christmas (2011)
A Christmas Tree Miracle (2013)
A Dog for Christmas (2015)
A Fairly Odd Movie: Grow Up, Timmy Turner! (2011)
A Fish Called Wanda (1988)
A Fistful of Dollars (1967)
A Snow Globe Christmas (2013)
All Over the Guy (2001)
Angels & Demons (2009)
Apollo 13 (1995)
Bad Girls from Mars (1991)
Barbie: A Perfect Christmas (2011)
Barbie and Her Sisters in the Great Puppy Adventure (2015)
Barbie in a Christmas Carol (2008)
Best Seller (1987)
Beverly Hills Vamp (1989)
The Black Stallion (1979)
Blue Hill Avenue (2003)
Blue Jasmine (2013)
Blue Velvet (1986)
Bride and Prejudice (2004)
Bright Lights, Big City (1988)
Christmas Cupid (2010)
The Da Vinci Code (2006)
Dr. Dolittle: Million Dollar Mutts (2007)
Escape From Mr. Lemoncello's Library (2017)
The Exorcist (1973)
Eve's Christmas (2004)
The Firm (1993)
The Forbidden Kingdom (2008)
Gangs of New York (2002)
Gargoyles: Wings of Darkness (2004)
Glory Road (2006)
The Godson (1998)
Half-Shell Heroes: Blast to the Past (2015)
Halloween VIII: Resurrection (2002)
Happily N'Ever After (2007)
Happily N'Ever After 2 (2009)
Harry Brown (2009)
Hitman's Run (1999)
King of the Mountain (1981)
Krampus Unleashed (2016)
Lane 1974 (2017)
Little Miss Sunshine (2006)
Living by the Gun (2011)
Lord of the War (2005)
Love at the Christmas Table (2012)
Malena (2000)
Mansfield Park (1999)
The Massively Mixed-Up Middle School Mystery (2015)
The Mistle-Tones (2012)
Mission Park (2013)
The Naked Gun: From the Files of Police Squad! (1988)
The Naked Gun 2 1/2: The Smell of Fear (1991)
Naked Gun 33 1/3: The Final Insult (1994)
Nick & Norah's Infinite Playlist (2008)
Operation Condor (1986)
Operation Condor II: The Armour of the Gods (1991)
The Pallbearer (1996)
Pixi Saves Christmas (2017)
Priest (1994)
Promise Land (1987)
Rags (2012)
Requiem for a Dream (2000)
Ride (2014)
Righteous Kill (2009)
Santa Baby 2: Christmas Maybe (2009)
Serendipity (2001)
The Shawshank Redemption (1994)
Sideways (2004)
Silent Tongue (1993)
Sleepover (2004)
Snow (2004)
Snow 2: Brain Freeze (2008)
Snowglobe (2007)
Splitting Adam (2015)
Spy Game (2001)
Sweeney Todd: The Demon Barber of Fleet Street (2007)
Swindle (2013)
Switchback (1997)
Teresa's Tattoo (1994)
Tombstone (1993)
Touchback (2011)
Trucks (1997)
Ulee's Gold (1997)
Valkyrie (2008)
Windtalkers (2002)
With a Friend Like Harry (2000)
Wonderland (2003)
Avail. 12/2/18
The Powerpuff Girls (Reboot): Complete Season 3A
Second Chance Christmas (2017)
Tangerine (2015)
Avail. 12/3/18
Adventure Time: Complete Season 10
Urban Country (2018)
Avail. 12/4/18
Wolfblood: Complete Season 4
Avail. 12/5/18
F**K That's Delicious: Complete Season 3
Avail. 12/7/18
Into The Dark: Pooka!: Episode 3 Premiere (Hulu Original)
Killers (2010)
Why Did I Get Married Too? (2010)
Avail. 12/10/18
Graves: Complete Season 2
Avail. 12/11/18
Say You Will (2018)
Avail. 12/12/18
Deck the Halls (2006)
Tyler Perry's I Can Do Bad All By Myself (2009)
Avail. 12/13/18
I Am Not a Serial Killer (2016)
Let's Be Evil (2016)
NASA: Above and Beyond (2018)
Nico, 1988 (2018)
Shelley (2016)
Avail. 12/15/18
Along Came the Devil (2018)
Boys and Girls (2000)
Fortress (2012)
Life of Crime (2013)
Smoke Signals (1998)
Snow Queen: Fire and Ice (2016)
Avail. 12/16/18
Amy Winehouse: A Final Goodbye (2011)
Michael Jackson: Life, Death and Legacy (2012)
Avail. 12/17/18
Damsel (2018)
Avail. 12/18/18
The Gardener (2018)
Winter Ridge (2018)
Avail. 12/19/18
The Killing: Complete Seasons 1-4
The Real Housewives of Beverly Hills: Complete Season 8
A Most Wanted Man (2014)
His and Her Christmas (2005)
Avail. 12/20/18
Disorder (2016)
Food, Inc. (2008)
Skate Kitchen (2018)
Avail. 12/21/18
Marvel's Runaways: Complete Season 2 Premiere (Hulu Original)
Avail. 12/22/18
The Devil's Doorway (2018)
Avail. 12/23/18
The Detour: Complete Season 3
Avail. 12/24/18
Mighty Magiswords: Complete Season 2A
Avail.12/25/18
Mr. Pickles: Complete Season 3
An American in Texas (2018)
Iron Man 2 (2010)
Avail. 12/27/18
Cardcaptor Sakura: Clear Card (Dubs): Complete Season 1
Breakfast at Tiffany's (1961)
Avail. 12/28/18
Into the Dark: New Year, New You: Episode 4 Premiere (Hulu Original)
Avail. 12/29/18
OK K.O., Let's Be Heroes!: Complete Season 2A
Eating Animals (2018)
Far From the Tree (2018)
Avail. 12/30/18
The Orville: Season 2 Mid-Season Premiere
The Lovers (2015)
Avail. 12/31/18
The Crooked Somebody (2017)
Available through Showtime add-on
8 Mile (12/1)
A Swingers Weekend (12/1)
Back to School (12/1)
The Bridges of Madison County (12/1)
Colors (12/1)
Daisy (12/1)
Donnie Darko (12/1)
Far and Away (12/1)
High Plains Drifter (12/1)
Last Seen in Idaho (12/1)
Mad Genius (12/1)
Major League (12/1)
Moonstruck (12/1)
The Untouchables (12/1)
The Way Home (12/1)
Tombstone (12/1)
Tootsie (12/1)
What's Eating Gilbert Grape (12/1)
When Harry Met Sally (12/1)
Denial (12/6)
Spotlight (12/22)
A Bad Moms Christmas (12/29)
Available through STARZ add-on
Along Came a Spider (12/1)
Austin Powers: The Spy Who Shagged Me (12/1)
The Chronicle of Riddick (12/1)
The Chronicles of Riddick: Dark Fury (12/1)
Dark Crimes (12/1)
Dr. Dolittle 2 (12/1)
Pitch Black (12/1)
Species (12/1)
Species II (12/1)
Species III (12/1)
Species: The Awakening (12/1)
Transporter 2 (12/1)
Always at the Carlyle (12/3)
How Do You Know (12/7)
Man on the Moon (12/7)
Open Water (12/7)
Open Water 2: Adrift (12/7)
The Tourist (12/7)
Wall Street (12/7)
Just Married (12/14)
Old Dogs (12/14)
Shock & Awe (12/15)
Moonrise Kingdom (12/16)
The Good Shepherd (12/16)
Tinker Tailor Soldier Spy (12/16)
Fail State (12/17)
Before Night Falls (12/21)
Patient Zero (12/29)
Here's the full list of titles leaving Hulu in December:
12/31/18
10 to Midnight (1983)
A View to Kill (1985)
Benny & Joon (1993)
Blue Chips (1994)
Child's Play (1988)
Death Wish 3 (1985)
Death Wish IV: The Crackdown (1987)
Diamonds are Forever (1971)
Die Another Day (2002)
Dr. No (1962
For Your Eyes Only (1981)
From Russia with Love (1964)
Goldeneye (1995)
Goldfinger (1964)
Hoosiers (1986)
Invasion U.S.A. (1985)
Missing in Action II: The Beginning (1985)
Ocean's Eleven (2001)
Ocean's Twelve (2004)
Ocean's Thirteen (2007)
Revenge of the Ninja (1983)
Soapdish (1991)
XXX (2002)
XXX: State of the Union (2005)