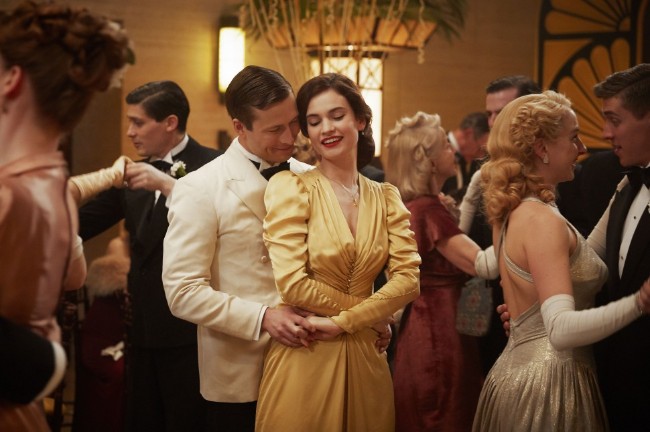 Netflix is making sure we have enough binging options to keep us comfortably on the couch this month, churning out plenty of original films and TV shows to fill up our queues and keep everyone happy. This week, that new lineup includes a WWII era romantic drama with an impressive cast and a teen comedy full of dick-jokes. So really, something for everyone here guys. Of course, it can be tough to keep up with what needs to be binged at the moment. That's why we're bringing you a round-up of what's new to Netflix and what's departing this week of August 10th.
Get to streamin.'
The Guernsey Literary and Potato Peel Pie Society (film streaming 8/10)
Lily James and Matthew Goode star in this romantic drama loosely-based on a true story. James plays Juliet, a young writer looking for an idea for her next book when she stumbles upon a letter from a resident of a British Channel island detailing their town's occupation by Nazis during the war and how they formed a kind of resistance through an innocuous book club. The leader of that book club went missing during the war, believed to have been taken to a concentration camp for openly-rebelling against the Nazi occupation, and throughout the film, Juliet draws closer to her story, and a certain man on the island, as she explores the way books have the ability to bring people together. It's the Downton Abbey spin-off that should tide fans over for now.
The Package (film streaming 8/10)
If you like an excess of dick jokes, this comedy about a group of teens going camping in the woods should be in your queue. A group of boys plans an adventure in the woods during spring break with a couple of girls in tow. The usual boozing and bad decision-making follow, but things get gross when one of the guys accidentally cuts his own penis off, and the race is on to reattach it before it's too late.
Here's a full list of what's been added in the last week:
Avail. 8/4/18
Flavors of Youth: International Version (NETFLIX ORIGINAL)
Mr. Sunshine (NETFLIX ORIGINAL)
On Children (NETFLIX ORIGINAL)
Avail. 8/5/18
Paid in Full
Avail. 8/9/18
Perdida (NETFLIX ORIGINAL)
The Originals: Season 5
Avail. 8/10/18
72 Dangerous Animals: Asia (NETFLIX ORIGINAL)
Afflicted (NETFLIX ORIGINAL)
All About the Washingtons (NETFLIX ORIGINAL)
Demetri Martin: The Overthinker (NETFLIX ORIGINAL)
Insatiable (NETFLIX ORIGINAL)
La Casa de las Flores (NETFLIX ORIGINAL)
Million Pound Menu (NETFLIX ORIGINAL)
The Guernsey Literary and Potato Peel Pie Society (NETFLIX ORIGINAL)
The Package (NETFLIX FILM)
The Ponysitters Club (NETFLIX ORIGINAL)
Voltron: Legendary Defender: Season 7 (NETFLIX ORIGINAL)
Zion (NETFLIX ORIGINAL)
And here's what's leaving next week, so it's your last chance:
Leaving 8/12/18:
For a Good Time, Call…
Leaving 8/13/18:
Help, I've Shrunk the Family
Leaving 8/16/18:
Being Flynn
Enter the Battlefield
Jem and the Holograms: Seasons 1-3
Littlest Pet Shop: Seasons 2-4
Pariah
Pound Puppies: Seasons 1-3
Seeking a Friend for the End of the World
The 40-Year-Old Virgin
The Adventures of Chuck & Friends: Season 2
Transformers Prime: Seasons 2-3
Transformers: Rescue Bots: Seasons 2-4