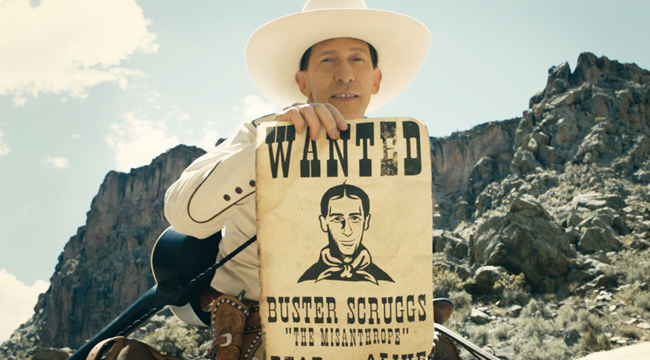 We're midway through November, and Netflix is making sure our streaming plate is full. Before we chow down on too much turkey, the streaming platform wants us to stuff ourselves on a filling lineup of new shows and movies making their way to our queues this week. We've got season four of Narcos on the menu, a Coen brothers Western anthology, and a new comedy starring Michael Douglas and Alan Arkin. Of course, it can be tough to keep up with what needs to be binged at the moment. That's why we're bringing you a round-up of what's new to Netflix and what's departing this week of November 16th.
Narcos: Mexico (series streaming 11/16)
Narcos is back and looks to be giving us a stylish re-imagining of the early days of Mexico's drug war. Diego Luna plays the new big bad, a drug lord looking to expand his reach, while Michael Pena plays the fed tasked with busting his operation. Luna looks to be thoroughly enjoying playing the sleazeball gangster-type, and since this new installment is set in the 1980s, expect plenty of decadence and a ton of cocaine.
The Kominsky Method (series streaming 11/16)
Michael Douglas and Alan Arkin star in this comedy from producer Chuck Lorre about an aging acting coach who refuses to go quietly into his twilight years. It's damn good to see Douglas on our screens again, and both he and Arkin have the kind of chemistry that makes a show like this work. Think Grace and Frankie but with dudes.
The Ballad of Buster Scruggs (film streaming 11/16)
The Coen brothers are back with a slick new Western romp, one that serves as an ode to all of the tropes present in Hollywood's best Wild West adaptations. Split into six parts, each story is loosely connected though thematically and tonally different. Tim Blake Nelson stars as the titular hero, a sharpshooting songster who takes part in the film's opening musical portion. From there we get stories of outlaws getting their due, prospectors mining for gold, ghostly hauntings, and wagon trails. Forgetting trying to follow the thread and just enjoy the ride with this one.
Here's a full list of what's been added in the last week:
Avail. 11/12/18
Green Room
Avail. 11/13/18
Loudon Wainwright III: Surviving Twin (NETFLIX ORIGINAL)
Oh My Ghost (NETFLIX ORIGINAL)
Warrior (NETFLIX ORIGINAL)
Avail. 11/15/18
May The Devil Take You (NETFLIX FILM)
The Crew (NETFLIX FILM)
Avail. 11/16/18
Cam (NETFLIX FILM)
Narcos: Mexico (NETFLIX ORIGINAL)
Ponysitters Club: Season 2 (NETFLIX ORIGINAL)
Prince of Peoria (NETFLIX ORIGINAL)
She-Ra and the Princesses of Power (NETFLIX ORIGINAL)
The Ballad of Buster Scruggs (NETFLIX FILM)
The Break-Up
The Kominsky Method (NETFLIX ORIGINAL)
The Princess Switch (NETFLIX FILM)
And here's what's leaving next week, so it's your last chance:
Leaving 11/17/18:
Undercover Boss: Seasons 1-5