Nickelodeon
On Wednesday we learned Nickelodeon is "considering ways to bring a small handful of its oldest programs back to its schedule" including the possibility of "a movie or special." The Nick moved fast to get one of those possibilities rolling, as The Tracking Board reports Nickelodeon and Paramount are developing a "massive live-action/animated crossover film featuring […] Rugrats, Angry Beavers, Hey Arnold!, Rocko's Modern Life, Ren and Stimpy, and more."
As someone who was obsessed with Rocko, Ren and Stimpy, and Catdog as a kid, that sentence just gave me two out of three reasons to be simultaneously psyched and protective. The good news is Tracking Board's sources say there's no intention to change or "update" the characters, just have them team up in an "Avengers-esque" way.
Citing The Lego Movie, Space Jam, Who Framed Roger Rabbit?, and Wreck It Ralph as influences, Nicktoons is poised to follow a similar model, employing a hefty amount of self-referential humor and charm.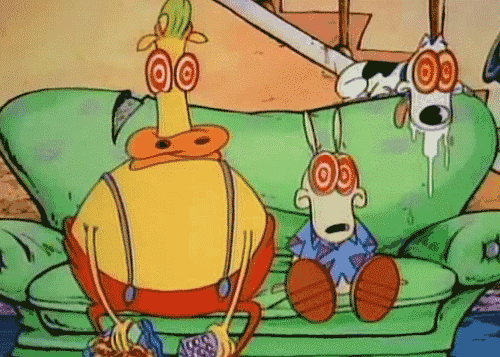 Nickelodeon
Mary Parent, Cale Boyter, and Elizabeth Raposo are on board as producers. There's also a script for Nicktoons circulating as of this afternoon for Tracking Board subscribers, described as "an Avengers / Space Jam / Wreck It Ralph-esque crossover film for all the early 1990s Nicktoons."
Two things I like about that: it says "all" the early '90s Nicktoons, and it says nothing whatsoever about a gritty reboot.
(Via Tracking Board)