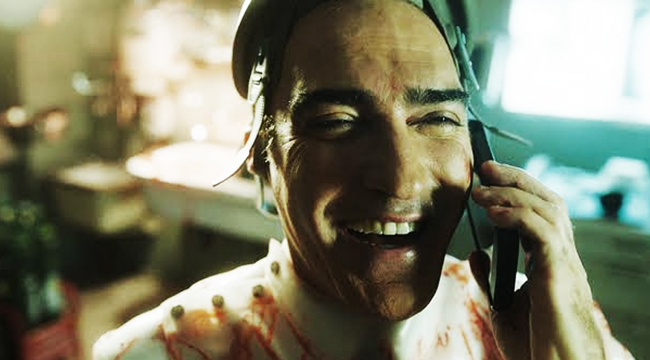 Patrick Fischler is an actor probably best known for portraying Jimmy Barrett on AMC's Mad Men. You may have also seen him on shows like Lost, Twin Peaks: The Return, and Southland, as well as films like Old School, Mulholland Dr., and Ghost World. Currently, he co-stars alongside Christopher Meloni and Lili Mirojnick on SyFy's Happy, which airs each Wednesday at 10pm ET. Patrick took some time to participate in our 20 questions questionnaire series.
1. You walk into a bar. What do you order from the bartender?
A good reposado tequila on the rocks.
2. Who's your favorite person to follow on Twitter and/or Instagram?
@louisvirtel there's no one funnier. And we all need that these days.
3. What's currently waiting for you on your DVR and/or streaming queue?
Final two episodes of Ozark. Season finale of Outlander. And 5 episodes of Marvelous Mrs. Maisel. We're going to be very busy this holiday break.
4. It's your last meal — what are you going out with?
Fried chicken. And more fried chicken.
5. What websites do you visit on a regular basis?
NY Times. Vulture. TVLine.
6. What's the most frequently played song on your mobile device?
"Mona Lisas and Mad Hatters" by Elton John
7. If you could go back and give your 18-year-old self one piece of advice what would it be?
Nothing. I'd leave him alone.
8. What's the last thing you Googled?
John Hughes movies.
9. Dogs or cats?
Dogs. I'm allergic to cats.
10. Best concert of your life was…?
Pink Floyd. Rose Bowl. 1994
11. What book are you most likely to give as a gift?
Never Let Me Go by Kazuo Ishiguro
12. What's the nicest thing anyone has ever done for you?
My wife gave birth to our baby girl.
13. South Park or Family Guy?
South Park.
14. You have an entire day to do whatever you want. What would you do?
Go to the theater all day and catch up on movies. I would go to see 3 movies in a day. With some quality food thrown in there between showings.
15. What movie can you not resist watching if it's on?
The Big Chill
16. The sports team or teams you're most passionate about?
None.
17. Where did you eat the best meal of your life?
French Laundry in Napa.
18. The last movie you saw in a theater?
The Disaster Artist. Yesterday.
19. Who was your first celebrity crush?
Jaclyn Smith.
20. What would you cook if Nic Cage was coming to your house for dinner?
Nothing. We'd go out for dinner.
PREVIOUSLY: Carly Hughes