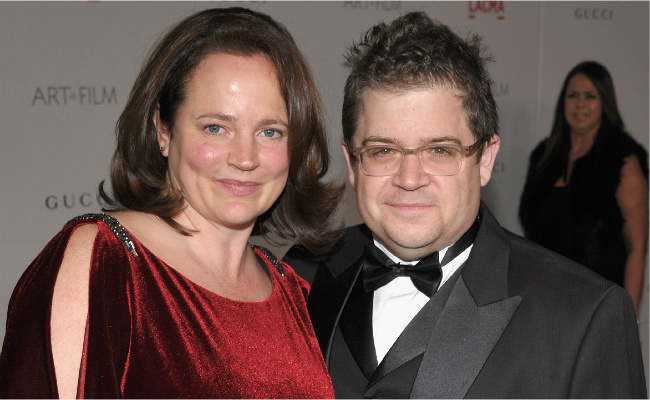 In April, acclaimed true-crime writer Michelle McNamara died in her sleep at the age of 46. Her husband, comedian and actor Patton Oswalt, paid tribute to his late wife on Twitter and shared something startlingly poignant their 7-year-old daughter Alice told him. "When your mom dies, you're the best memory of her," she said. "Everything you do is a memory of her."
One hundred and two days after her death, Oswalt honored McNamara with a lengthy and emotional Facebook post about depression and grief, which he described as "Jason Statham holding that 4th grade bully's head in a toilet and then f*cking the teacher you've got a crush on in front of the class. Grief makes depression cower behind you and apologize for being such a dick."
Oswalt continued:
If you spend 102 days completely focused on ONE thing you can achieve miracles. Make a film, write a novel, get MMA ripped, kick heroin, learn a language, travel around the world. Fall in love with someone. Get 'em to love you back.

But 102 days at the mercy of grief and loss feels like 102 years and you have shit to show for it. You will not be physically healthier. You will not feel "wiser." You will not have "closure." You will not have "perspective" or "resilience" or "a new sense of self." You WILL have solid knowledge of fear, exhaustion and a new appreciation for the randomness and horror of the universe. And you'll also realize that 102 days is nothing but a warm-up for things to come. (Via Facebook)
Oswalt described himself as being "face-down and frozen for weeks" after McNamara died, but now he's "crawling," thanks to having been shown "new levels of humanity and grace and intelligence by your family and friends. They will show up for you, physically and emotionally, in ways which make you take careful note, and say to yourself, make sure to try to do that for someone else someday." Oswalt later noted that McNamara left "the best parts of her into Alice, like beautiful music burned onto a CD and sent out into the void on a spaceship." He also promised to "start being funny again soon," adding, with his typical mastery of language, "Reality is in a death spiral and we seem to be living in a cackling, looming nightmare-swamp. We're all being dragged into a shadow-realm of doom by hateful lunatics who are determined to send our planet careening into oblivion."
"Hey, there's that smile I was missing!" Ours, too.
(Via Facebook)