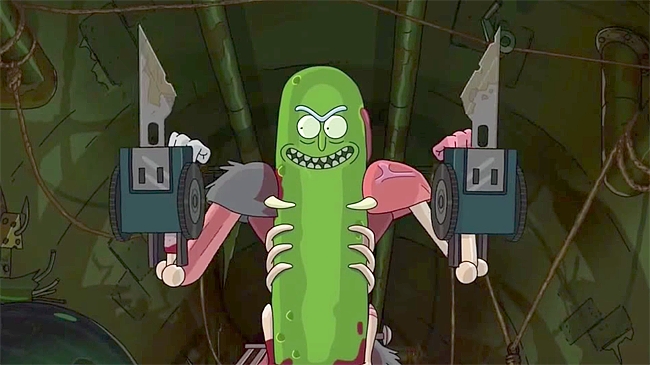 The new home release for Rick And Morty season three will come with a special treat for Game Of Thrones fans. According to Entertainment Weekly, GoT creators David Benioff and Dan Weiss, along with star Peter Dinklage, sat down and recorded a commentary track for the "Pickle Rick" episode. While Entertainment Weekly is only hosting two special clips, the trio apparently recorded for the entire episode during their session in May. You can seem em hanging out with Justin Roiland below:
While the commentary was recorded nearly a year ago, the content is fresh and full of praise for one of the standout episodes of the season. According to EW, the two moments they got to tease brought out some great responses — especially about Rick's monologue at the end of the episode:
The first includes an amazing Rick monologue to a therapist which Benioff dubs "maybe the best writing in 2017." Weiss calls it "the perfect Rick monologue followed by an even better Rick monologue…

"The last episode of Game of Thrones should be a live-action version of Pickle Rick," Weiss muses.
The show has mentioned Game Of Thrones before during one the Interdimensional Cable episodes — and got some blame for a joke by Adult Swim during the Game Of Thrones season seven finale — but this also isn't the first time Benioff and Weiss have praised Rick And Morty:
"Rick and Morty is one of the funniest, smartest things ever put on TV; every one of its 22-minute plots is more ambitious than 99 percent of the science-fiction films that will be made in the next 10 years."
You can check out the commentary clips over at Entertainment Weekly and rewatch the scene without commentary below. Or better yet, head over to Adult Swim to watch the full episode or just buy the DVD and put the episode on repeat. You have options.