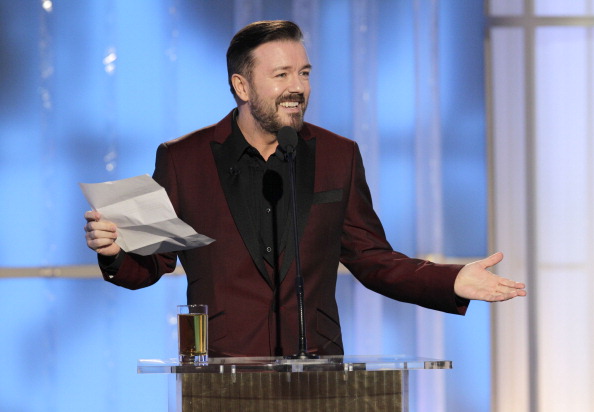 When Ricky Gervais approached the podium at the beginning of the 69th Annual Golden Globe Awards, the British comedian immediately did four things his hosting tenure was famous for.
Took a swig from a glass of beer.
Referenced himself at his own expense.
Made the crowd nervous.
Insulted the audience.
Alcohol, self-deprecation, edgy humor, and insults are what made Gervais tick as the three-time host of the Golden Globes. The press loathed him for it, but Gervais didn't really give a sh*t. Not even his Hollywood Foreign Press Association bosses could reel him in.
Gervais wasn't asked to return as host in 2013. Instead, duties were split between Tina Fey and Amy Poehler, allowing Hollywood to breathe a sigh of relief. Both performed wonderfully as co-hosts in 2013 and 2014, and they're bound to do the same this weekend. But I miss Gervais. He did so many things right. Some wrong, but mostly right.
They Only Had Themselves To Blame
In 2009, Gervais presented the Golden Globe-nominated film Happy-Go-Lucky in a two-minute bit rife with narcissism, a glass of beer, and a holocaust joke. In other words, the Hollywood Foreign Press Association had a preview of what Gervais was like, but still went on to hire him for the next three awards shows.
He Mostly Made Fun Of Himself
When 2010 rolled around, Gervais used his first time on stage to rant against the American adaptation of The Office — the hit British television show that helped launch his career — and cosmetic surgery in Hollywood. Between shots at Steve Carell's take on the role he originated and celebrities with recent work done, Gervais's script landed punch after punch. What most people missed were the punches he directed at himself, of which there were many.
Except For When He Was Trashing Actors
Then again, there's the infamous (and not so hidden) jab at Tom Cruise during the 2011 awards show. When discussing the film I Love You Phillip Morris, in which heterosexual actors Jim Carrey and Ewan McGregor play gay characters, Gervais segued into a joke about famous Scientologists doing the opposite. Aside from a few laughs, the audible collective gasp in the crowd was loud enough to serve future NBC sitcoms as a "gasp track."
He Never Apologized
Gervais appeared on fellow Brit Piers Morgan's now defunct CNN talk show soon after the much-maligned 2011 awards show performance. Morgan suggested Gervais's initial confidence no one would be offended was "probably stretching it a bit." The comedian noted, "If they are, I'm sorry for them being offended but I'm not sorry for anything I said," then argued, "Just because you're offended, doesn't mean you're in the right." Some may disagree with his not apologizing, but his argument is sound. #sorrynotsorry
Because He Didn't Have To
None other than Late Show host David Letterman called attention to the media firestorm surrounding Gervais's 2011 performance. With the audience in tow, Letterman read through the New York Post's collection of the best jokes and lampooned those in Hollywood and the press who were quick to take offense. "If [the Hollywood Foreign Press Association] had any brains, and clearly they don't, they'd hire the guy full time," joked the talk show host. "That's exactly what you need. That's exactly what you want."
This year, Gervais returns to the Golden Globes as a nominee and a presenter. He told Variety last month of his expectations regarding his turn to be on the receiving end of the jokes, and he'll be ready for whatever Fey and Poehler's committee-approved script throws at him. "I'm going to heckle back."