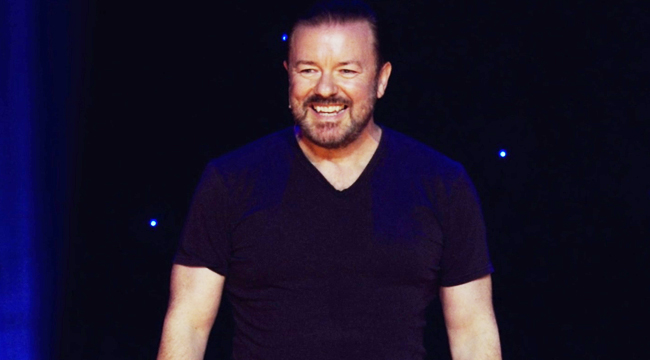 It seems like every week, a wide variety of titles come to Netflix, along with a few that end up disappearing. It can be tough to keep up with what needs to be binged at the moment. That's why we're bringing you a round-up of what's new to Netflix this week of March 17th, including a new special from Ricky Gervais and an interesting psychological thriller series.
Ricky Gervais: Humanity (streaming 3/13)
Ricky Gervais stepped back into the stand-up spotlight after seven years for his Humanity tour. Tackling Twitter, his Golden Globes controversies, and — you guessed it — atheism, it's a special with its ups and downs, even for long-time Gervais fans out there. But the ups make it worth a watch, and it'll hold us over until he, Stephen Merchant, and Karl Pilkington hopefully team back up.
Tabula Rasa, Season 1 (streaming 3/15)
A woman with short-term memory loss is sequestered in a mental ward by the police, who are trying to ascertain what she knows about a man who's gone missing. The show jumps back and forth between months before the man's disappearance and the woman's time in the ward, twisting perceptions of what's actually going on and who to trust. The Memento-esque Dutch series is tense and slightly abstract as the audience follows the trapped, rambling mind of its protagonist.
Take Your Pills (streaming 3/16)
Adderall and other stimulants are nothing new in this day and age, but how did they become so wildly available? And what long-term effects do they have? Take Your Pills examines their history, dating all the way back to 1937 up to now when they're even more common among performance-driven adults than young people who actually need them. Peppered with pop culture references and imaginative art, it's an intriguing and thought-provoking documentary.
Here's a full list of what's been added in the last week:
Avail. 3/12/18
Kygo: Live at the Hollywood Bowl
Troy: The Odyssey
Avail. 3/13/18
Children of the Whales: Season 1 — NETFLIX ORIGINAL
Ricky Gervais: Humanity — NETFLIX ORIGINAL
Stretch Armstrong: The Breakout — NETFLIX ORIGINAL
Terrace House: Opening New Doors: Part 1 — NETFLIX ORIGINAL
Avail. 3/15/18
Jackass 3.5: The Unrated Movie
Power Rangers Ninja Steel: Season 1
Tabula Rasa: Season 1 — NETFLIX ORIGINAL
The Hollywood Masters: Season 2
Avail. 3/16/18
Benji — NETFLIX ORIGINAL
Edha: Season 1 — NETFLIX ORIGINAL
On My Block: Season 1 — NETFLIX ORIGINAL
Spirit Riding Free: Season 4 — NETFLIX ORIGINAL
Take Your Pills — NETFLIX ORIGINAL
The Legacy of a Whitetail Deer Hunter — NETFLIX ORIGINAL
Wild Wild Country: Season 1 — NETFLIX ORIGINAL
And here's what's leaving next week, so it's your last chance:
Leaving 3/19/18
V/H/S: Viral
Leaving 3/20/18
Zootopia
Leaving 3/22/18
Steve Jobs: One Last Thing
Leaving 3/24/18
Voltron 84: Season 1
Who Framed Roger Rabbit