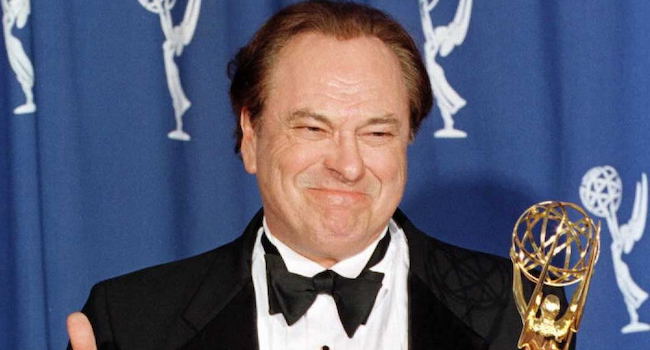 Rip Torn, who went from one of the most exciting young actors of the '50s and '60s to one of the most delightfully irascible scene-stealers of the last few decades, has died, says The Hollywood Reporter. He was 88 years old.
It's hard to tell what Torn was most known for. To some, he was Artie, the know-it-all, seen-it-all producer, on Garry Shandling's pioneering The Larry Sanders Show, which netted him six Emmy nominations and one win. Some know him as Zed, head honcho of the first two Men in Black films. Still others may recognize him as another honcho, corporation guru Don Geiss, on 30 Rock.
Torn was Oscar-nominated for the 1983 drama Cross Creek. He failed to win any awards, unjustly, for his turn as urine-drinking coach Patches O'Houlihan in Dodgeball: A True Underdog Story. Ditto, alas, for overshadowing even Tom Green in Tom Green's Freddy Got Fingered.
Torn came up through the Actors Studio group that in the '50s flooded the stage and screen with Method actors, schooled by Lee Strasberg and hungry to redefine acting in ways fresh and raw. His film debut was for no less than Elia Kazan, the director most synonymous with the style; suitably for such a dangerous actor, it was for Kazan's controversial 1956 film Baby Doll. Three years later he received a Tony nomination for his Broadway debut, in Tennessee Williams' Sweet Bird of Youth.
Torn was a working actor, going where the roles and money were, but he never sold out. He filed memorable, vivid, edgy turns on TV shows like Naked City and Dr. Kildare and Combat, shaking them up; when he appeared, it was as though he was trying to take the shows hostage. Later in life, he naturally played one of the preyed-upon killers on a 1991 episode of Columbo.
He was often as disquieting onscreen as -off, becoming notorious for being "difficult." One of the most (in)famous Torn moments is from 1968's Maidstone, directed by and starring Norman Mailer. Its ending features a nasty, hammer-wielding tussle between the two that ends with Mailer's character biting off part of Torn's character's ear. It looks real, because it was; Torn even broke character and called Mailer's character, name of Kingsley, both "Norman" and "Mailer."
A more lovable Torn emerged, starting in the '70s — thanks to somber turns like his melancholic professor-scientist in The Man Who Fell to Earth — but he was still mischievous, not one to be trifled with. He was uncontainably mad in Summer Rental, helpful but not too helpful as Albert Brooks' advocate in the after life comedy Defending Your Life. He was a character actor, but when he got the chance to spend years and years playing the same character, Larry Sanders' Artie, he perpetually looked like the cat about to swallow the canary.
When Studs Terkel was putting together his seminal oral history Working, an epic tome that interviewed real people about their real jobs from the early-to-mid '70s, he turned to Torn for the profession of acting.
"Actors have become shills," Torn told Terkel. He lamented that most acting wasn't about real feelings, not about celebrating humanity. "Since I feel, I can use my feelings at work. In a lot of other types of work I can sweat — I sweat as an actor — but I can't use my feelings. So I guess that's why I became an actor. But I found out that's not what they want. They want you to be their Silly Putty."
Rip Torn was never anyone's Silly Putty.
(Via THR)