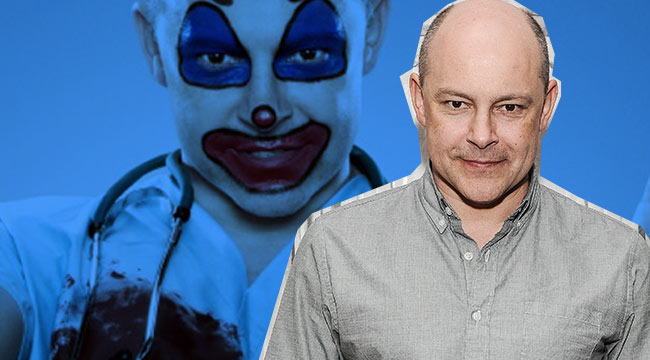 Today is a sad day. You know why? Because the current season of Adult Swim's Childrens Hospital — the Emmy Award-winning comedy series created by Rob Corddry, David Wain and Jonathan Stern — will be its last. Vulture broke the heartbreaking revelation earlier in the day, but Corddry had more to say about the matter, so he spoke to us about bringing the wonderfully absurd hospital procedural/romantic comedy/goofy drama mashup to a close.
The decision came after production for the seventh season had already wrapped, which meant that the season finale now doubles as the series finale. As tricky as a move like that might be creatively, what Corddry struggled with (and still struggles with) the most was how to tell his best friends and coworkers that Childrens Hospital was over.
So… This was a surprise. What spurred you to end Childrens Hospital after seven seasons?
You know what? It definitely felt last-minute to probably everyone, including — regrettably — my partners, except to me and my wife. Because it's something that I've been talking to her about for a long time. Just shooting season seven, people started asking me, "How long are you going to do this show?" Only because seven is kind of like that magic number in television. That's when shows usually run out of ideas, and then they get canceled or whatever. But I didn't have that excuse because there really is no end to absurd jokes, or this kind of tone. I just found myself too creatively exhausted to do all these other things, all these ideas that I have written down in my notebook. I had the energy to write them down, but Childrens Hospital has been too important to me to do anything else. And I just want to do other stuff. I'm a creative person, or in other words, a selfish asshole.
"Selfish asshole" in a good way, I'm sure…
Oh yeah. Self-indulgent, but not in the worst of ways.
Sounds like you wanted the show to end on a high note.
Yes! That's exactly right. That was just one of the factors that helped make the decision for me. I was like, "You know what? If I'm actually committed to ending this, I should do it now rather than set myself up for failure in writing a final eighth season of Childrens Hospital." Because I don't think we could have written a better series finale than what we made this season.
Considering the show's absurdity and goofiness, it seems fitting that the finale was completed before you decided to make it the finale during post-production.
It's funny you mention post, because I was in Miami shooting Ballers and doing post remotely for a lot of it, which is a drag in itself. I just found myself resenting having to make notes for random things like cues, credits and title card timing. That's when I started to realize just how much energy this actually takes, and how exhausted I'd be while they were all waiting for me in post, listening to me whining.
This reminds me of Keegan-Michael Key and Jordan Peele's decision to end Key & Peele last summer. The show was doing great, and they didn't want to ruin it, so they decided to move on.
Nick Kroll did the same thing with the Kroll Show, too. He was able to end it on his own terms, and I believe Parks and Recreation did the same thing to a degree. It's funny. All of us are kind of like-minded fellows, and it makes sense that we all share this sensibility since we come from the same era of comedy. Hopefully… It's hard to say, because we have no idea what's going to happen to network television. There's really no predicting it accurately at this point. But it's not a very American thing to end a show when you want to. It's a very British thing, that they just do two or three seasons and then they're done. I've always really — I don't know if "admired" is the right word — respected that and thought it was the ideal. To do something that you're that proud of that you can just walk away from it.
It's interesting you bring up this "sensibility" and British television, as many of the better shows these days are also released on their own accord. Whether it's Louis C.K.'s Horace and Pete on his own website, or Sherlock releasing a new season every couple of years.
It's just a different model, and who knows where it comes from. I don't think that the British are funnier or any more creative, necessarily. It might just be the result of having, basically, a socialist network model, if I understand the BBC correctly. [Laughs.] Like a state-owned, state-run… I don't know what it is about a state-run television network would inspire that kind of model, but whatever. There, I said it. I don't understand what I said, but I'm sticking to it.
Plus, all these shows you mention are the result of television itself being in a really exciting phase right now. There are more places for more people to create stuff, and people who never would have gotten on the air before now have a million different choices for where to put something on. It's really exciting, and that will probably change the traditional network model. I think it will have to.
I think it already is. Case in point, Animals. on HBO, which you did some voice work for. Their story follows this new-ish online-to-television model.
Those guys are great, but yeah. I guess the good thing about networks now is that they're managing their expectations for viewership. A show that gets three or four million a night is, as far as I understand it, a huge hit, whereas before it would be 18 to 20 million viewers a night. When I tell Henry Winkler that we win our time slot every single night we air with somewhere around one million viewers, he's flabbergasted. He's like, "What? One million wins?" And I'm like, "Oh yeah!"
What is that, like 15 times less than what he banked with Happy Days?
At least.
Speaking of Winkler, how did everyone else at the show take the news about Childrens Hospital coming to an end?
It was really hard. Initially, everybody was very accepting. They were bummed out, but they got it, because at the end of the day we're all friends. We all started as friends before this thing ever happened. It wasn't like we were saying, "Well this is it so I'll never see you again." It was more like, "All right so what else are we going to do?" You know, I'm glad that interviews like this are happening because I don't think I was really able to express myself, and I'm not sure everybody was left with a clear reason why. I really regret that. Not having a perfect diamond of a reason to have given them all, because they deserve it.
Especially David Wain and Jonathan Stern, who after a few days when it really sank in, they were really bummed out. I completely understand that, and I really regret that they weren't part of the decision. It just sort of happened when I was away. I just want everybody to… I love these people so much, and I don't want anyone — especially all those people — to be angry at me. It's just very important that they understand that, and I think they do.
I'm sure they do, and if not, they will as this season comes to a close in April.
Yeah, I'm sure. It's just been a really hard week as people process the news.
You mentioned having the energy to write down so many new things, but not the time to work on it. What are you most excited…
I'm going to flush the toilet now because I was just peeing while I was talking to you. Full disclosure, man.
[Laughs.] That's totally fine.
I don't want there to be any lies between us.
Aside from cleanliness, what are you most excited about working on now that you've got the free time?
There have been a couple of things sitting around for a while now. Stern and I have a pilot with Adult Swim, which also includes two other executive producers. It was created by me and Stern and Josh Perilo. I've also been working on another special with Brian Huskey and Jason Mantzoukas at Adult Swim. Then there's Ballers, which airs its second season this summer.
Once I ended Childrens Hospital, I got excited about these existing projects and a bunch of other ideas like I hadn't been before. They were charged again for me, which is great. Plus, I started work on a feature-length screenplay that, at this point, is just for me. No deadlines, no nothing. I'm just doing it to learn how to do it. That's what I'm filling most of my days with right now, because I love learning how to do that. I've never written a feature, but I've always wanted to. Since I started Childrens Hospital, I've become a hero's journey nerd. I'm psyched to finally see what that means in terms of writing screenplays.
Well I'm glad, and while we're all sad about Childrens Hospital, we look forward to watching the rest of the season.
I was about to say, "I hope you enjoy the rest of the season," but I'm not going to say that because it's good. I know you're going to like it.
The series finale of Childrens Hospital airs Friday, April 22. Until then, the next episode, "Show Me a Hero" airs Friday, March 4 at 11 p.m. ET on Adult Swim. Here's a preview…