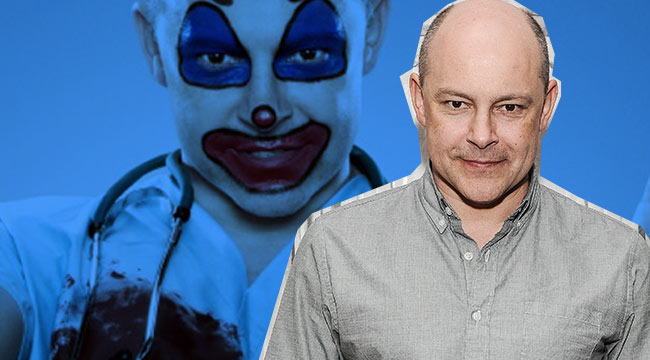 Today is a sad day. You know why? Because the current season of Adult Swim's Childrens Hospital — the Emmy Award-winning comedy series created by Rob Corddry, David Wain and Jonathan Stern — will be its last. Vulture broke the heartbreaking revelation earlier in the day, but Corddry had more to say about the matter, so he spoke to us about bringing the wonderfully absurd hospital procedural/romantic comedy/goofy drama mashup to a close.
The decision came after production for the seventh season had already wrapped, which meant that the season finale now doubles as the series finale. As tricky as a move like that might be creatively, what Corddry struggled with (and still struggles with) the most was how to tell his best friends and coworkers that Childrens Hospital was over.
So… This was a surprise. What spurred you to end Childrens Hospital after seven seasons?
You know what? It definitely felt last-minute to probably everyone, including — regrettably — my partners, except to me and my wife. Because it's something that I've been talking to her about for a long time. Just shooting season seven, people started asking me, "How long are you going to do this show?" Only because seven is kind of like that magic number in television. That's when shows usually run out of ideas, and then they get canceled or whatever. But I didn't have that excuse because there really is no end to absurd jokes, or this kind of tone. I just found myself too creatively exhausted to do all these other things, all these ideas that I have written down in my notebook. I had the energy to write them down, but Childrens Hospital has been too important to me to do anything else. And I just want to do other stuff. I'm a creative person, or in other words, a selfish asshole.
"Selfish asshole" in a good way, I'm sure…
Oh yeah. Self-indulgent, but not in the worst of ways.
Sounds like you wanted the show to end on a high note.
Yes! That's exactly right. That was just one of the factors that helped make the decision for me. I was like, "You know what? If I'm actually committed to ending this, I should do it now rather than set myself up for failure in writing a final eighth season of Childrens Hospital." Because I don't think we could have written a better series finale than what we made this season.