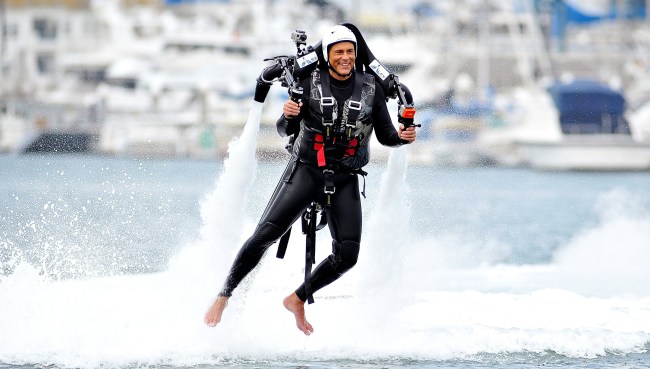 "Hi, I'm Rob Lowe."
"And I'm Vacationing In Hawaii And Springing To Action By Hopping On A Jet Ski And Zipping Out To Try To Save People Whose Sailboat Had Just Run Aground But Not Actually Saving Anyone Because Four Of Them Had Escaped On A Lifeboat And One Is Still Missing Rob Lowe."
From Page Six:
Beach-goers were treated to quite the show off the Kona coast as the svelte and shirtless "Parks and Recreation" star quickly hopped on a jet ski and fought against the choppy waters to head to the rescue.

Wearing a pair of navy and green striped swim trunks, Lowe and another man combed the waters in search of people aboard the 74-foot vessel, the Hawaii Aloha.
Three things:
1) That banner image, of Rob Lowe smiling while using a water-powered jet pack, has very little to do with this story besides the fact that it is also a water-based Rob Lowe thing. I do not care. I love it. In it goes.
2) Gotta love how much of the story about a jet ski rescue following a boat crash was dedicated to Rob Lowe's swimsuit and how he looks without his shirt on. Never change, Page Six.
3) A Baywatch reboot starring Rob Lowe in the Hasselhoff role? Could work. Something to consider, at least.
via Gawker