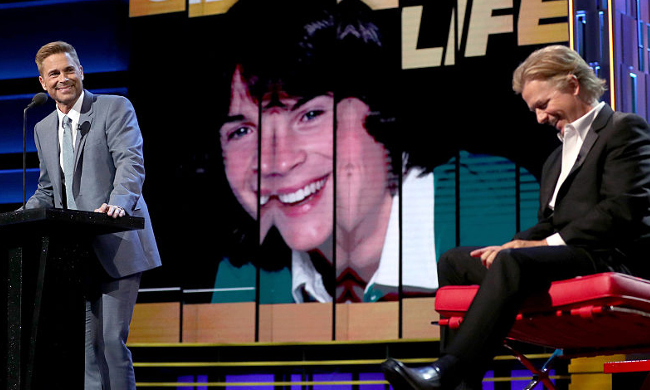 In 1988, Rob Lowe, then a charming, exceptionally handsome rising Hollywood star seemingly poised to dominate show business, met two women at an Atlanta night club and took them back to his hotel room for an evening of sexual activities. It wouldn't have been a massive scandal or even public knowledge in that pre-internet era, but Lowe recorded the affair and the sex tape was eventually discovered. Even worse for the actor, it was revealed that one of the girls was only 16 years old, which wasn't illegal in Georgia, but still, the damage to Lowe's reputation and career was done, and it took years for the actor to recover.
Chances are you already knew that story, but if you didn't, you might have tuned in to The Comedy Central Roast of Rob Lowe and found yourself very confused as to why the celebrities and comedians on his dais were endlessly mocking him for statutory rape. If you did know that story, then your first thought was probably "That's gonna be ugly" when it was announced that Comedy Central would be honoring the still exceptionally handsome actor, and as we saw on Monday night, the comedians "honoring" Lowe did not disappoint in their efforts to mock his status as the original sex tape star. Even Lowe literally mocked himself.
Amy Poehler opened the show as Satan/herself, urging Lowe to get out there and make his best rape joke, so we knew what we were in for. And just like any good roast, there was the good, the bad, and the "Hoo boy, that's ugly."
The Best
Music as Hot as the Man
Using an '80s-inspired song like Steel Panther's "The Burden of Being Wonderful" for the opening of Lowe's roast is a great choice, if only because the lyrics are so apt. But the big question lingering in my John Parr-loving mind was "When am I gonna hear some 'Man in Motion' on this godforsaken roast?" The answer: Six minutes and 42 seconds into the show. If you use any form of the St. Elmo's Fire theme, be it the full version or a simple parody, as is the case here, you'll get a passing grade, no matter how terrible the rest of the show may be.
Roast Master David Spade
A roast is only as good as its host, and David Spade was built for nights like this.
"For years Rob Lowe had a sex addiction, but he cured it by getting less famous."
"Rob was in a movie called The Outsiders back in the day. His character was called Soda Pop, because at the time Rob was 98 percent coke."
"I remember the first time I became aware of Rob. I was at a casting meeting for Tommy Boy when I came across your headshot, and I do mean came across."
Not counting the jokes about female orgasms that he opened with, Spade's first set of jokes at Lowe's expense was like classic "Hollywood Minute" material, a reminder of why we liked Spade in the first place.
The Peyton Manning Subtle Laughing GIF
If this roast gave us anything, it's the Peyton Manning cut-to. He gets jokes, y'all.
The MVP of the Evening is… Jewel?
"And then there's Rob Riggle. Rob, you look like every dad who can't handle having a gay son."

"Peyton Manning is here because Eli is still out there making his dad proud."
You don't expect Jewel to be a comedy heavyweight, what with her soft-spoken nature and her songs about whatever it was she sang about 20 years ago, but as she stood there lightly strumming her guitar, she nailed some great one-liners. In fact, her unexpectedly strong delivery made her jokes* about Ann Coulter the best of the bunch, because she didn't really need to go overboard to hammer home the point. She seemed sweet about it all, which was nice (although, Nikki Glaser calling her "Trailer Swift" might have eclipsed her whole set).
*Or someone's jokes that were written for her, but that doesn't take away from her solid delivery.

The Best and Worst Jokes About Lowe's Sex Scandal
"Rob was in the Austin Powers movie 16 years ago. Can you believe it, 16? Or as he calls it, 18." – David Spade
"Rob was the first male spokesperson for the Lee National Denim Day, which raises millions of dollars for breast cancer research. That's a great thing. It's a disease that his mother, grandmother, and great-grandmother suffer from. But you still fucked a 16-year-old girl in 1988." – Pete Davidson
"Rob, in both your sex tapes, you appeared with two other people. Good God, man, you can't even carry a sex tape." – Rob Riggle
"Rob Lowe is like a Ken doll: he's plastic and often the first thing to enter a teenage girl's vagina. Underage girls always felt safe making sex tapes with Rob Lowe because they knew no one would ever watch a movie with Rob Lowe." – Jimmy Carr
"Rob defies age… restrictions. You look like you're sculpted. You put the statue in statutory rape. I had such a crush on you when I was a little girl. If only I had known that's when I had my best shot." – Nikki Glaser
"Is it true that you're deaf in one ear? That can be a real problem for you, because you can't hear the girl's parents coming home." – Jeff Ross
We didn't get to see every single joke that the comedians and celebrities hurled at Lowe and each other, so there were probably many, many more jokes about Lowe's sex tape scandal. The broadcast version felt surprisingly light on the jokes, though, and that's a good thing. In fact, I'm shocked there was only one joke in the entire show about Lowe being on a show called Grinder, which is also the name of a gay dating app. I'll call that lack of softballs progress.
The Worst
The Overdone "Ohhhhhhhhh"
"Nikki Glaser has a show called Not Safe, but most people call it Not Schumer." – Pete Davidson
For some reason, that joke was followed by a long "ohhhhhh" of disapproval from the audience. Spade's Charlie Sheen AIDS joke didn't even get that bad of a reaction. Jokes about statutory rape didn't get that bad of a reaction. Jimmy Carr's hilarious commentary on the concussions suffered by the wives of NFL players didn't even get that bad of a reaction. Hell, even the jokes about Davidson's dad dying on 9/11 didn't get the terrible "Ohhhhhhh" response. I expected Glaser to get some hate for her "bad mouth" joke about Jewel, above, but the crowd rightfully loved it. Pick your "Ohhhhhh" battles a little better, audience.
Take It Down a Notch, Rob Riggle
One problem with most celebrity roasts is that newcomers often lack energy, or they're visibly nervous and the jokes hurt because of it. Rob Riggle is a funny man, obviously, but shouting the punchlines is a bit much. Even the crowd was reluctant to get a "Big hairy asshole" chant going because he was so menacing about it. The guy made three jokes about Ann Coulter's "big angry bush" and his volume, along with that imagery, took away from the joy we should have felt.
A Standing Ovation for Peyton Manning
How do you tell a guy he looks like he has Down syndrome or that Katrina refugees survived on his forehead for two days and then give him a standing O before he even tells a joke? I'm not saying he wasn't great – he has proven he's a funny guy – and his "fat Pitbull" joke about Jeff Ross was one of the best of the night (especially since Ross went mostly unscathed on the TV version). However, he certainly lost the goodwill of the people by invoking the Nationwide jingle. The NFL season hasn't even started, dammit, and we're haunted by that endless aural punishment.

The Parting Shots Need Work
The roaster's agenda is simple:
1) Mock everyone on the dais
2) Mock the roastee
3) Say something nice about the roastee and get back to your seat to drink away the rest of the evening
Arguably the biggest problem with the Lowe roast (and others) is how the roasters handle No. 3 on that list, and Davidson and Riggle were good examples to kick off the festivities. It's awkward watching guys try to be nice and "aw shucks" about the celebrity they just ripped to shreds, so either dump the niceties and save them for bro hugs at the post-roast party, or keep it clean and quick with one good line. It hurts to watch two strong minutes of comedy come crashing down around a fumbled bit about why it's all good. Nikki Glaser nailed it with her "crush" joke, and Manning's Brady joke was A+. Take notes, everyone else.
The Ryan Dunn Memorial Joke
Remember when Amy Schumer made that joke about Ryan Dunn's death and Steve-o was so upset because a roast is no place for crossing the line? I did, as soon as Jimmy Carr made a joke about Chris Farley's death and Spade offered the above response. Funny how there's never a real limit on how soon is "too soon."
And don't think we're forgetting the champion of the evening, Ann Coulter. More on that shortly.