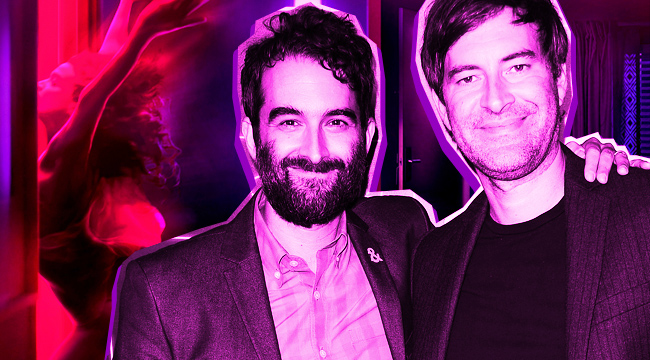 For their latest project, Room 104, an anthology series on HBO, Mark and Jay Duplass are taking their latest step toward broadening the perception of them as being much more than the purveyors of indie rom-coms.
The show follows a series of stories that hop between genres, including psychological thrillers, the supernatural, emotional drama, and modern dance. Still, the stories are weighted by real-life occurrences that typically hold the potential to seem sad, bittersweet, and creepy.
From a couple recreating their wedding night to a pair of fighters preparing for their ringside showdown, the self-contained episodes all share the same setting, as well. A drab, unremarkable hotel room where the Duplass brothers are getting experimental while working with a group of up and coming talents in an effort to open up the collaborative process and be less hands on. Another experiment for them.
The concept seems distant from the ones that the brothers are known for, but the DIY spirit seems right in line with their roots.
The Duplass Brothers' first feature length release, The Puffy Chair, followed a man's journey to deliver a lounge chair to his father and was made on a $15,000 budget that they borrowed from their parents and shot with a hand-held Panasonic. The film, a rom-com focused on the aimless struggles of a twentysomething couple, ended up winning an audience award at SXSW.
Following that, the brothers were able to slowly cultivate a following as they churned out films like Baghead, a comedy-horror about a group of actors tricked into believing they're being stalked by a serial killer for the sake of art, and The Do-Deca-Pentathlon, a comedy revolving around two middle-aged brothers whose sibling rivalry forces them to compete in an imaginary athletic competition they created. (They wrote and directed both.)
Later, as producers, they embraced collaboration and started to attract bigger name stars like Kristen Wiig and Bill Hader in Skeleton Twins, Elisabeth Moss in The One I Love, and Nick Kroll in Adult Beginners. The basic method of storytelling stayed the same, though: hook with the oddball and outlandish — like a man posting a time-travel ad in Safety Not Guaranteed or a couple reconnecting through doppelgangers — and reel in with the nuance, the profound, the real. Young adults searching for their place in the world, siblings trying to move past familiar hurts: that was the Duplass Brothers' family business, but there were steps toward projects that didn't resemble those beats.

Mark wrote the found footage horror film Creep and the brother's production company backed Bad Milo, a love letter to '80s creature features. They also produced the documentary Asperger's Are Us and mystery comedies like The Overnight, romantic dramas like 6 Years, sports stories like The Bronze, and thrillers like Manson Family Vacation.
When TV beckoned, the indie film staples crafted a diverse response with Togetherness — a comedy-drama about the struggles of two couples living under the same roof — and Animals, an animated comedy featuring bed-bugs grappling with mid-life crises and gender-confused pigeons. But for this deepening of their relationship with HBO, they wanted to go a bit further in their effort to, as Mark Duplass put it in a recent interview with Uproxx, take the "skin off" of what they had started to become known for, recognizing that the Duplass Brothers brand carried with it certain connotations and that finding indie success can breed a sort of protectionism for sticking with what got you there.
"We're not just sensitive dramedy people. We like other things," said Duplass in the interview after acknowledging that they had lightly pushed back on their rep with recent projects before going all in with Room 104.
While the focus is surely on making Room 104 work and in continuing to play in a sandbox that allows them to jump from James Van Der Beek dancing in a cumberbund to Orlando Jones holding a seance, it's impossible to ignore the benefits that can come from being able to make a broad declarative statement about one's creative intentions. Especially in 12 parts and multiple genres.
That Duplass Brothers brand could wind up being a lot harder to define if Room 104 works how they hope it will, allowing them to move in whichever direction they choose to next. That's the reward one gets to claim when they resist the easy path and bet on both their skills and their audience's willingness to grow with them.
Tune-in to Room 104 Fridays at 11:30 PM on HBO