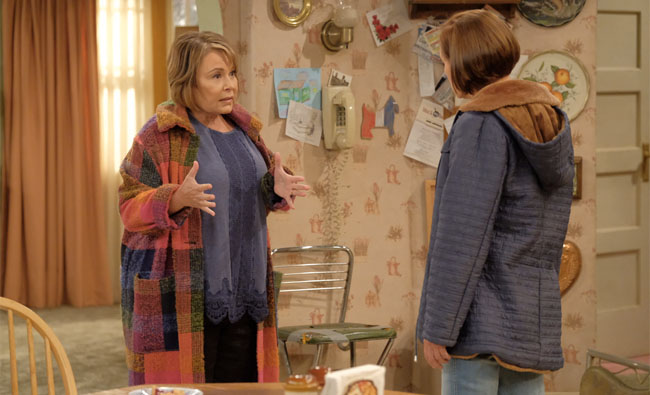 After an incredible first week that was watched by over 25 million people, with the largest ever total amount of DVR viewers over a three-day period for a single telecast on any network, the Roseanne revival predictably dropped in viewership for week two. Tuesday's new episode, "Roseanne Gets the Chair," averaged "just" 15.2 million viewers, with a 3.9 rating in the 18-49 demo, down 24 percent from last week's double episode premiere.
The decrease is not that surprising given that most new shows drop 10-17 percent between a premiere and second episode, and that number tends to be even higher when it comes to revivals. In fact, the Will & Grace reboot lost about 30 percent of its audience in the second week, and Twin Peaks lost more than 50 percent.
And of course, the total DVR viewership has yet to be factored in, as many more people may have tuned in for the premiere in real time out of curiosity.
Meanwhile, the controversy surrounding the Trump-approved revival continues to gain steam, as some viewers were offended by a dumb, throwaway joke aimed at ABC's Black-ish and Fesh Off the Boat in Tuesday's new episode. Likewise, others have dredged up a photo shoot Roseanne Barr did for Heeb magazine in 2009, in which she dressed as Hitler.
Roseanne co-showrunner Bruce Helford is asking that viewers separate the show from the Barr persona, however.
I know that Roseanne is a very staunch supporter of Israel and she has said as much. I imagine there's probably some amount of parody involved and all that. I don't know the context of that so I wouldn't make a comment on it. My feeling is that people should just watch the show and judge it on its merits. Watch the show without the accompanying background noise. Everybody, including Roseanne, wanted the show to be balanced. When we talk about wanting to open a dialogue in America, that's something that the show does. We're not trying to perform brain surgery or cure cancer. We all hoped that this would open a dialogue where people would start laughing at themselves a little bit, get a little less polarized and realize that this is a universal conversation. Lots of families find themselves divided on these issues. There's got to be a way to talk and still love each other the way that Roseanne and Jackie made their peace [in the revival's premiere]. And that's really what we want to have come out of it.
With the revival quickly scooped up for a second season, for better or worse, it doesn't appear that Roseanne Barr or Roseanne Conner are going anywhere anytime soon.