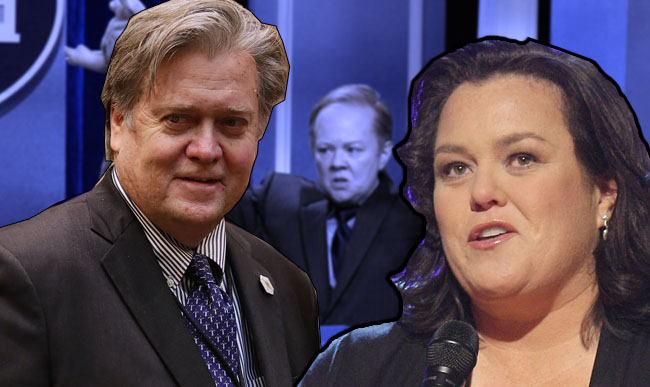 It has been a wild week on social media regarding who should play the members of Trump's administration on Saturday Night Live. Ever since Melissa McCarthy's Sean Spicer debuted and apparently shook the president to his core, folks were clamoring to cast the entire administration as Trump enemies, women, or both.
Christine Baranski made it clear that she'd be willing to play Betsy DeVos on the show if needed, but all eyes seemed to be on Rosie O'Donnell to play Steve Bannon. Not only was she willing, she even went so far as to change her Twitter profile picture to appear more like the White House chief strategist. This caused folks to get excited online in hopes that one of Trump's past foes would return to pester him on the show that he can't seem to stop paying attention to.
Sadly that doesn't seem to be the case according to a report by Variety. Barring some sort of double switch or Spicer-level surprise, it doesn't seem like O'Donnell will be playing Bannon on the show:
While there seems to be a potential wave of female performers portraying president Donald Trump's cabinet members on the horizon, don't count O'Donnell in just yet. Sources from O'Donnell's camp tell Variety that the former talk show host won't be playing Bannon on "SNL." Reps for the NBC show declined to comment, persisting that the network doesn't weigh in on "guest rumors."
That's not a solid "no" on Rosie ever appearing or even stopping by this week out of the blue, but it does give some support to common sense thinking. Dropping O'Donnell into the show on short notice could throw things off. You could definitely toss her into the costume, but why pull a half measure?
Besides, they struck gold at random with Melissa McCarthy and the surprise was part of it working so well. Any Rosie appearances probably shouldn't be fueled by a week-long social media push.
(Via Variety)