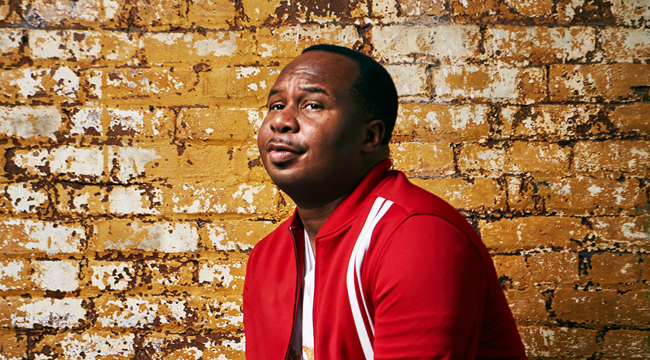 Roy Wood Jr. is a comic probably best known for his work as a correspondent on Comedy Central's The Daily Show. You may also know him from his time as a contestant on Last Comic Standing, and the TBS show, Sullivan & Son. Currently, he has a new standup special, No One Loves You, that premieres on Comedy Central this Friday, January 25 at 11pm EST. Watch the trailer for it here.
Roy was nice enough to take a few minutes of his time to participate in our twenty questions questionnaire series.
1. You walk into a bar. What do you order from the bartender?
Double Jameson and Ginger Ale.
2. Who's your favorite person to follow on Twitter and/or Instagram?
Twitter: Jemele Hill & Bomani Jones. A beautiful blend of sports, politics and clapbacks.
3. What's currently waiting for you on your DVR or in your streaming queue?
Silicon Valley, True Detective, Broad City, Pardon the Interruption, Black Monday, and Blue Planet.
4. It's your last meal — what are you going out with?
Red Lobster's Cheddar Bay biscuits, sweet tea, & McDonald's chicken nuggets with sweet & sour sauce, and a milkshake from Sonic.
5. What websites do you visit on a regular basis?
Deadline.com, Thedailyshow.com, TheUndefeated, The Atlantic, WorldStarHipHop, ForTheWin/UsaToday.
6. What's the most frequently played song on your mobile device?
"Sleepwalking" by The Chain Gang of 1974.
7. If you could go back and give your 18-year-old self one piece of advice what would it be?
Start stand-up comedy sooner!!
8. What's the last thing you Googled?
9. Dogs or cats?
Guinea pigs.
10. Best concert of your life was…?
Solange Knowles' soundcheck. Essence Music Festival, New Orleans, July 2017. Learned so much as a performer about the preparation process.
11. What book are you most likely to give as a gift?
Creative Quest by Questlove.
12. What's the nicest thing anyone has ever done for you?
I'll never forget as a 9thgrader, I missed the last city bus home. And started walking in 20-degree weather and a TOTAL stranger gave me a ride home. It was so cold I didn't even consider the possibility of being kidnapped.
13. South Park or Family Guy?
South Park. They're both funny.
14. You have an entire day to do whatever you want. What would you do?
Sleep, PlayStation, Pizza. In a remote location.
15. What movie can you not resist watching if it's on?
Bad Boys (The Will Smith one. Not that old school Sean Penn one.)
16. The sports team or teams you're most passionate about?
The Chicago Cubs and Miami Dolphins.
17. Where did you eat the best meal of your life?
Japa Dog Hot Dog Cart in Vancouver. It's fucking magical.
18. The last movie you saw in a theater?
Into the Spidey Verse
19. Who was your first celebrity crush?
It was a tie between Kellye Williams, a.k.a. Laura Winslow, and Tatiayna Ali & Ananda Lewis.
20. What would you cook if Nic Cage were coming to your house for dinner?
He gotta sit his ass out on the curb and wait for UberEats to pull up. I'm not letting Nic Cage in my home, did you see all the shit he stole in the National Treasure movies?
And here's a sneak peek at Roy's special: