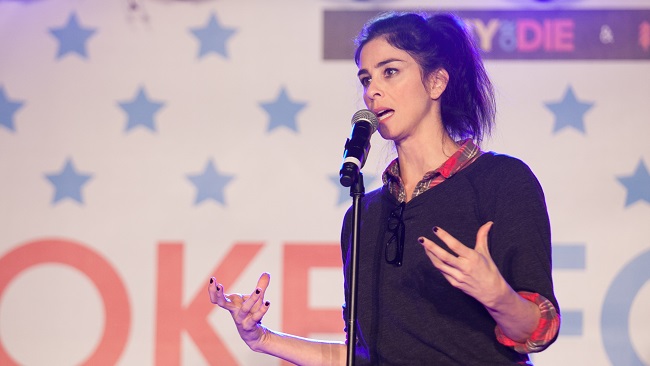 Samantha Bee has become a late night institution, and the Full Frontal host's endeavors are spreading. Programs like Bee's former home The Daily Show are expanding their casts with more diverse voices (new British correspondent Gina Yashere), while longtime late night figure Chelsea Handler retooled her Netflix show, Chelsea to follows a more Full Frontal-like format. All of which is great news, as a more varied late night revue could counter America's current political climate, which doesn't lend itself to diversity all that well. Enter comedian Sarah Silverman.
Netflix competitor Hulu, perhaps eager to catch up with its rival's original programming output, announced a new straight-to-series order for I Love You, America, a 10-episode weekly half-hour program that sounds like a mix of Bee's Full Frontal and Handler's Chelsea. Like these predecessors, Silverman's topical talk show will "discuss the current political" and "emotional landscape of the country" with a mix of studio-based and on-location segments. Unlike Bee and Handler, however, I Love You, America comes equipped with the executive producing power of Funny or Die, Will Ferrell, Adam McKay and Amy Zvi.
"From inciting treason to telling poop jokes, Sarah Silverman has created her fair share of online chatter," explained Hulu's press release. "With this show she's looking to connect with people who may not agree with her personal opinions through honesty, humor, genuine interest in others, and not taking herself too seriously. While it's great to connect with like-minded people, Silverman feels it's crucial, now more than ever, to connect with un-like-minded people."
Sounds like something everyone currently living in the United States could use… a connection with "un-like-minded people." That is to say, folks who aren't always ready to immediately approve of our skeptically-sourced Facebook posts.