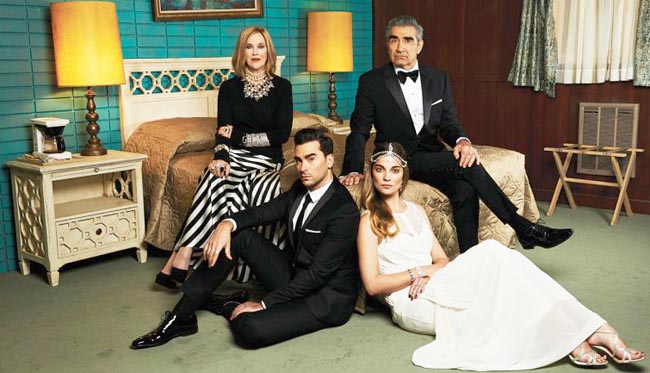 Schitt's Creek, the beloved little sitcom that could, will be ending after its sixth and final season. Series creators Daniel Levy and his father Eugene Levy announced the news with a statement to fans on Twitter on Thursday morning, revealing that they had made the decision to end the show on their own terms.
"We are so grateful to have been given the time and creative freedom to tell this story in its totality, concluding with a final chapter that we had envisioned from the beginning," the Levys wrote. "It's not lost on us what a rare privilege it is in this industry to get to decide when your show should take its final bow. We could never have dreamed that our fans would grow to love and care about these characters in the ways that you have."
The note ended with "best wishes and warmest regards," a bittersweet nod to a sort of catchphrase from the series.
Schitt's Creek premiered on on CBC Television in January of 2015, and was picked up shortly thereafter by the then-practically unheard of Pop cable network in the states, where it grew a small cult following. Once the series began streaming on Netflix in early 2017 however, it quickly blew up to a wide and devoted fan base — selling out venues with a "Schitt's Creek: Up Close & Personal" tour that began earlier this year.
What could have been a wacky, fish-out-of-water comedy (and still, to an extent, is) blossomed into something beautiful over the course of its five seasons as the Rose family — Johnny, Moira, David, and Alexis — grew to embrace the life they had gotten stuck with in the titular town of Schitt's Creek. While the show is and has always been laugh-out loud funny, it also found a heart along the way.
The decision to end the series on a high notes is a savvy one on Levy's part. Sure, they could likely keep making it on one platform or another for years and years, but there's also something to be said for staying true to one's vision. Yet, it goes without saying that fans are having a mixed reaction to the news, and have taken to Twitter to express their sadness and gratitude.
It's also worth mentioning that it will be criminal (not unlike being defrauded by your business manager) if whole thing ends without an Emmy for Catherine O'Hara — or more correctly, all of the Emmys.
"I've always known how the show was going to end," said Dan Levy reiterated his remarks in a phone interview with the Canadian Press on Thursday. "I've always seen every season of our show as a chapter in the story of this family's life, and we have reached our inevitable conclusion in that story, so it was the right time and it was something that I had been building to for five seasons."
We get it, but also: Ew, David.