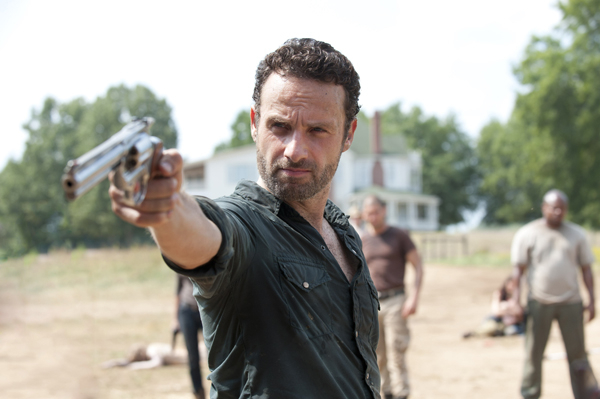 Scott Gimple was the showrunner on The Walking Dead arguably during the series best run — seasons four through six — and he wrote some of the best episodes of the second and third seasons ("Pretty Much Dead Already," "Clear," "This Sorrowful Life"), and I genuinely believe Gimple is largely responsible for growing The Walking Dead from a popular cable series into the biggest show on television.
A lot of The Walking Dead fans, however, turned on Gimple late in his run. In its seventh and eighth seasons, the series was mired in a never-ending war (a war that actually only lasted two weeks), and the fan community flipped out on Gimple after he decided to kill off Carl Grimes.
I actually have a lot of sympathy for Gimple because he was in something of a no-win situation in seasons seven and eight. Fans of Robert Kirkman's source material took issue with Gimple if he strayed too far from the comics, but there were just as many viewers annoyed with The Walking Dead for hewing so closely to the comics that it took some of the element of surprise out of it. Glenn's death is the perfect example: If he hadn't died in the series, comics fans would've taken issue and called it a cop out, but killing him also generated a lot of backlash, particularly for the way it maintained the brutality of Glenn's death from the comics.
Gimple, I suspect, felt that he needed shake things up in the eighth season and treat viewers to a huge surprise. Unfortunately, that surprise — Carl's death — proved to be too large and he ultimately alienated some fans. Meanwhile, Gimple is also being blamed in the fan community for the death of Madison Clark on Fear the Walking Dead (it's unclear what role he had in that).

In either respect, fans of The Walking Dead who might have felt alienated by Gimple need not worry about his contributions to the ninth season. It's Angela Kang's show now — faster paced, with more meaningful dialogue — and Gimple's role is negligible:
"Just in terms of the day to day, [Scott Gimple is] very busy with the universe," Angela Kang told Comicbook.com. "And so, he doesn't have much to do with the day to day. We do work in the same building, as does Fear The Walking Dead, although he has stuff all over so he's been flying back and forth, I fly in back and forth. So we try to check in with each other at least once a week and just do even a lightning room, to go, 'Here's stuff that's going on.'"

He's been really great as just a person who sat in the chair, and so he gives me advice when I'm like, 'What do I do with this weird situation that came up?' And he's like, 'Oh yeah, a thing like that happened in Season 5 and here are some options of what you might think about.' He's like, 'I can't tell you what to do, you're the showrunner. You are the one who knows the story better than anybody."
In other words, it's Angela Kang's world now, a "new chapter" with a new logo. She also has no choice in veering away from the source material because two of the biggest characters in the comics, Rick and Maggie, are leaving the series, so viewers should expect a different kind of series in season 9.
We'll find out if it's better when The Walking Dead returns on October 7th.
Source: Comicbook.com