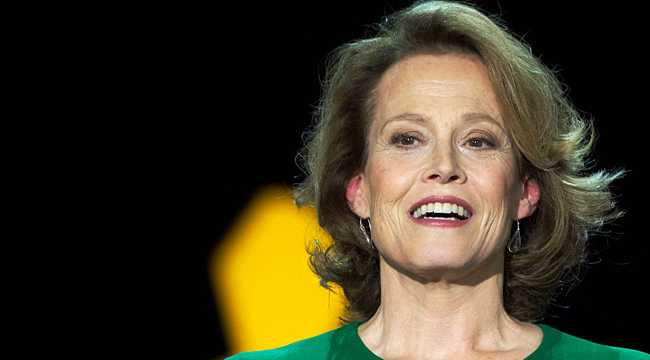 Marvel and Netflix are gearing up for their gathering of the superheroes with The Defenders, which will see Daredevil, Jessica Jones, Luke Cage and Iron Fist teaming up for some relatively dark action. The binging will be good. Oh yes, the binging will be good. Unfortunately, The Defenders will push back new seasons of Daredevil and Jessica Jones to 2018, but there's a give and take here, and it'll all be worth it in the end. Especially with the reveal that Sigourney Weaver will be the villain in The Defenders when it hits Netflix in 2017.
At the New York City Comic Con, Marvel's Jeph Loeb made the Weaver reveal as dramatic as possible, waiting until the end of the panel to bring out the sci-fi queen:
"We've not told you who the villain of The Defenders is, and the reason is for that, is we needed to find somebody that could take on all these guys and that you would be really happy with."
Then, boom — according to those in attendance, out comes Sigourney F'n Weaver to ECW-esque changes of "Holy sh*t!" New York Comic Con is special. It probably got a pop deserving of Weaver and this classic line.
(Via AV Club)