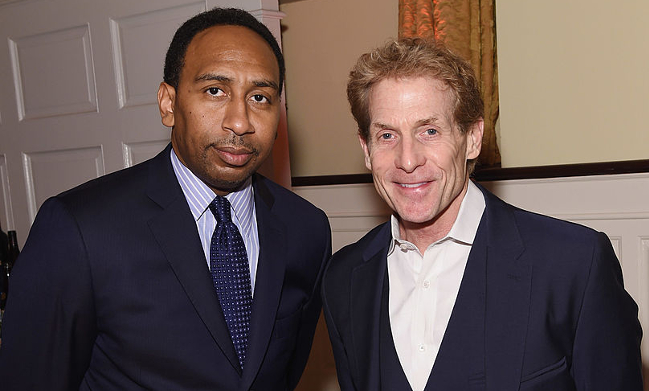 Skip Bayless has long tried to push the narrative that he is a real journalist whose on-air shouting matches with Stephen A. Smith are simply the product of his brand of hard-hitting investigative journalism. His critics, however, argue that he is a real life troll, the human form of an Internet comments section, and his so-called journalism has long been the downfall of common sense and level-headed discourse in sports television. Whatever he may be, Bayless' work on First Take helped drive ESPN's era of embracing debate, and that is why Fox Sports 1 has paid him athlete money to switch networks and help rescue the Worldwide Leader's would-be rival from a ratings problem.
We've known for several months that Bayless would be making the move, as he recently said his farewell to his First Take viewers, while his former co-workers made sure the door knob hit him on the way out. Bayless had been rumored to be FS1's biggest fish since earlier this year, because former ESPN VP Jamie Horowitz is in charge of FS1's blossoming sports debate redesign. Bayless will ultimately be the cherry on a sundae that features two scoops of Speak for Yourself, the struggling series that has Colin Cowherd and Jason Whitlock clinging proudly to their genre of "Sorry not sorry" sports analysis.
Interestingly, Bayless tells the Hollywood Reporter that we haven't even seen the best of what he has to offer. He claims that his ESPN "handcuffs" are coming off on FS1, and he'll use his most scorching takes to really prove that he is "one of the most incisive opinionists in all of media," as Horowitz calls him.
"Too many people in charge at ESPN, for my taste, were a little too fearful," Bayless tells the Hollywood Reporter in an interview officially revealing his move. "It's a Disney network. There are just certain boundaries that you can't even tiptoe along. Not that we won't have boundaries at Fox because we will. [But] they will trust me to go a little deeper. I can be completely honest on everything."
That's probably bad news for LeBron James, who invokes more of Bayless's "honesty" than anyone else, but maybe that just means he'll help even more superstar athletes come out of the closet.
"I'm not suggesting I'm going to become some sort of shock jock because that's not me," he adds. "I say what I say because I believe it from the bottom of my soul and I can back it up. Now I feel like I can be completely honest heart-and-soul with full support from the people above me."
"Back it up" is, of course, another way of saying, "Say it louder." Bayless says he looks forward to competing against his previous show, and if Speak for Yourself's ratings are indicative of what Bayless will bring to FS1, it's safe to say First Take is looking forward to competing against him, too.