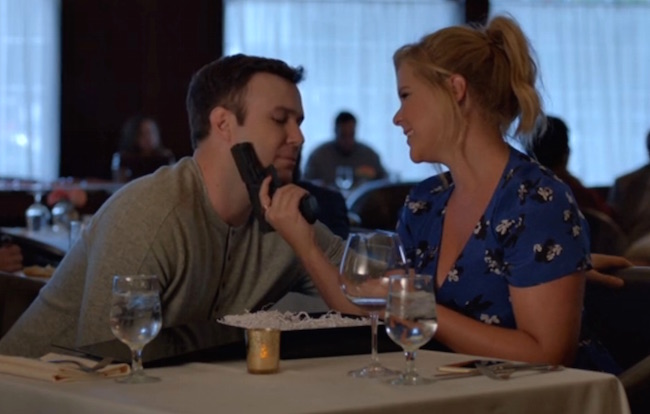 In 2012, SNL aired a sketch featuring a debate between Jay Pharoah's Barack Obama and Jason Sudeikis' Mitt Romney. When asked what they would do about guns, Romney answered "I will do nothing." Obama answered, "I will also do nothing." It was a biting piece of commentary. When this particular episode was re-aired after the Sandy Hook shooting, that moment had been removed and SNL has pretty much avoided the topic of guns ever since.
Then, last night, there were three separate moments that dealt with guns. Some sort of policy had to have changed because I don't believe for a second that it was only this week a writer on the show decided this might be worth exploring. Regardless, it's nice to see SNL finally use its voice on an important topic. Again, finally.
A big part of this is the presence of Amy Schumer as host. I suspect many hosts might shy away from this kind of subject, but it's taken on a personal dimension for Schumer over the last year. Oh, and hey, Amy Schumer, as you might expect, is pretty darn good at sketch comedy. And, as expected, SNL was vastly improved from last week's effort. Here's is today's happy Scorecard:
Sketch of the Night
"Guns" (Schumer, Ensemble) It's great not just because it's saying something, but that it's so funny. It's easy to make a serious point and not be funny. It's hard to make a serious point and be funny. I laughed out loud when Kate McKinnon fires off her gun while jogging; when Mooney and Zamata play spin the bottle with a gun, then start firing at shooting stars; and when Bobby Moynihan gives his newborn a gun, then acts like he's being held up.
Score: 9.5
The Good
"Hands-Free Selfie Stick" (Bryant, Mooney, Bayer, Schumer) This is a much better Millennials sketch than last week's "Millennials" sketch.
Score: 8.0
"Amy Schumer Monologue" (Schumer) Amy Schumer is great at stand-up comedy. This was part of her stand-up act. It's too bad all hosts can't just do a long set of great comedy to open the show, so it's nice to have people like Schumer who can.
Score: 7.5
"Weekend Update" (Jost, Che, Pharoah, McKinnon) "Weekend Update" continues to be inconsistent. This was a good "Update"! This is the time I should be optimistic, but this is what happened all through last season: a good "Update" would follow a bad "Update," then it would regress again. I'm starting to believe "Update" hinges on the mood of Jost and Che — who both seemed to be in good moods this week. Last week they were either in bad moods, or off, or whatever we want to call it, and the show suffered. And it helped they had sharp material, like their back-and-forth on gun control (SNL really went for it this week) which utilized both of them in a great way. Kate McKinnon's Mrs. Santini is, well, Mrs. Santini. (It's fine, but I always get a kick out of McKinnon's new characters, though I know that's not easy to just "do.") Speaking of new characters, Pharoah's Solomon didn't seem to really hit, but there's something intriguing about Solomon in a "I wonder who Pharaoh knows in real life who talks like this," kind of way.
Score: 7.5
"Cold Open: Fox and Friends Speaker of the House" (Killam, Moynihan, Bayer, Davidson, McKinnon) It's gotten to the point that these are just always good. In a way, they are almost too reliable, like it's cheating. Part of me thinks these should be retired and another part of me thinks SNL should just concede and run these every week. (I'm leaning toward the latter.)
Score: 7.0
"Ford's Theatre" (Schumer, Killam, Mooney, Thompson) My favorite part of this was the look on Kenan Thompson's face as he's just trying to lead a tour. And then poor Kyle Mooney, who just wants to plays his role and get out of there. I really do love this concept. If I were in a room and someone pitched "recreation of Lincoln's assassination in which the actress playing Mary Todd Lincoln takes it way too seriously," I would laugh at just hearing that.
Score: 6.3
"Porn Teacher" (Schumer, Mooney, Bryant, Bayer) Aidy Bryant's complete innocence in this sells it just enough. Kyle Mooney plays a strangely believable porn star. I'm not sure how I feel about that.
Score: 6.0
The Bad
"Baby Shower" (Schumer, Bayer, Strong, Zamata, Bryant, McKinnon) I wanted to like this more because I appreciate it being weird, but I think I found myself too caught up in the missing purse. I'm glad Cecily Strong got her purse back.
Score: 5.0
"City Council Meeting" (Bryant, Moynihan, Strong, Mooney, Thompson, Schumer, Jones, Davidson) A sketch featuring yet another statement on guns (seriously, they really went for it), but other than that moment, this kind of felt like a real city council meeting. So I guess it gets some points for accuracy.
Score: 4.5
The Ugly
"Delta Fight" (Schumer, Bayer, Killam, Thompson) I used to have a fear of the door flying open on an airplane in mid-flight, but then the Internet told me that because of the air pressure, it's impossible. Visually, I guess I can understand how the idea of flight attendants accidentally opening the door on a plane during routine announcements is funny, but it just didn't work. It's one of those weird sketches in which you have the kind of weird smirk on your face as if you're telling yourself, "Okay, something wacky is happening, get ready to laugh … any second now, you're going to laugh. It's going to be great!" And then that laugh never comes.
Score: 4.0
Average Score for this Show: 6.53
· Amy Schumer 6.53
· Miley Cyrus 5.41
Mike Ryan has written for The Huffington Post, Wired, Vanity Fair and New York magazine. He is senior entertainment writer at Uproxx. You can contact him directly on Twitter.