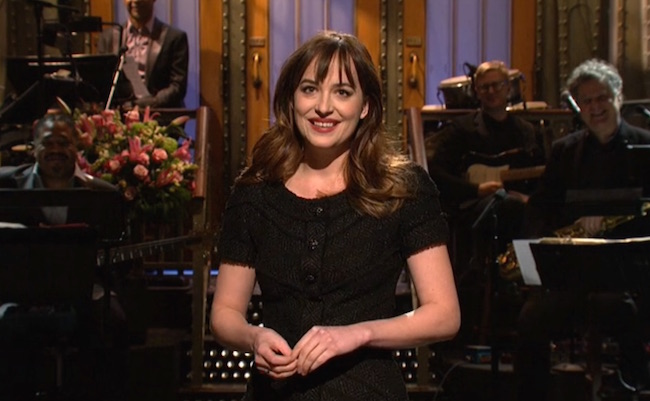 Dakota Johnson continues her Fifty Shades of Grey world tour by hosting Saturday Night Live (while Jamie Dornan continues his apparent stint in the witness protection program). You know, this had to be a tough show. Whether anyone would admit it or not, there has to be something weird about the huge buildup to SNL's 40th anniversary, the culmination of everything that went on with that show, then, a week later, to show up on Monday and start all over. I'm sure there's no conscious letdown, but there has to be something bizarre about the whole experience. (I wonder if at the after-party anyone said, "Wait, Prince isn't playing tonight?") This wasn't the most memorable of shows, unfortunately – the first show non-anniversary show since way back on January 31.
(As an aside, I thought about titling the post something dumb like "Fifty Shades of Neigh" or "Fifty Shades of Oy Vey," but after a Google search I discovered that all the bad Fifty Shades puns have been used. All of them. Every single one. Anyway, let's get on with the Scorecard… )
Sketch of the Night
"Emergency Room" (Johnson, Thompson, Killam, Jones, Davidson, Bayer) As someone who (A) likes Star Trek and (B) is still mourning the loss of Leonard Nimoy, I thought this was funny and sweet – especially when you take into account SNL's playful history with Trek. And, sure, Dakota Johnson has a hard time keeping a straight face, but I've watched this sketch three times now and it gets a little more wonderful every time because Kenan Thompson sells the hell out of this. (And the tribute to Nimoy at the end was a nice touch.)
Score: 7.5
The Good
"Say What You Want To Say" (Strong, Bryant, McKinnon, Bennett, Pharoah, Johnson, Davidson, Jones, Zamata) This was fine until Kate McKinnon's "I can't poop with you in here" line, which then made this the truest sketch in SNL history. Hyperbole? Yes, but who cares?
Score: 7.5
"Father Daughter Ad" (Johnson, Killam, Mooney) SNL has had a difficult time trying to find humor when it comes to the subject of the most brutal terrorist organization in the world. In the past, they tried making fun of their social media strategy, then had them present a pitch on Shark Tank, which was a disaster of a sketch. This week it was a bait and switch commercial parody, and it was pretty good!
Score: 7.0
"Weekend Update" (Jost, Che, McKinnon, Pharoah, Zamata, Moynihan) Jost had a great delivery on the "Batman's parents wish they were dead" line and I still think Che is at his best when he's not speaking in the news anchor voice and letting his natural humor come out. Kate McKinnon as Ruth Bader Ginsberg was about as great as that sounds and I'm glad that Ruth Bader Ginsberg's drinking habitshave now become a popular culture talking point. Jay Pharoah's Kanye West is just the greatest thing. (I know, what a hard-hitting critique, but it just is the greatest thing.) And we got the return of Riblet! Riblet is now officially a recurring character and I find myself pleased by this. But it is kind of a weird joke because Bobby Moynihan/Riblet is actually quite good as a "Weekend Update" anchor.
Score: 7.0
"Mr. Riot Films" (Bennett, Mooney) This didn't 100 percent work, but that poor guy at the coffee shop saying, "my bad," kind of makes up for it. The bullying segment was kind of great, but by the time we get to Kyle Mooney dressed as a dog, I found myself less interested.
Score: 6.2
"Dakota Johnson Monologue" (Johnson, Mooney, McKinnon, Johnson, Griffith) Well, it's not the best sign that Johnson's monologue became a "take questions from the audience," but Johnson had some fun stories and seeing Don Johnson and Melanie Griffith together in the audience made this worthwhile on its own.
Score: 6.0
The Bad
"I Can't" (Johnson, Moynihan, Strong, Bryant) Though there has to be some appreciation for the fall Aidy Bryant takes out the window, it just felt like there wasn't much there with this one. I kind of wish they would have done more with Bryant's lack of being able to do anything with two broken arms than focusing on the "funny voices."
Score: 5.0
"Press Junket" (Johnson, McKinnon, Mooney) I think I wanted to like this much more than I actually liked this. But Mooney still makes me laugh even with his let's say, lesser characters. (If you haven't seen the "man on the street" video he did for the 40th anniversary, you should watch that right now.) https://www.youtube.com/watch?v=UXVxDo2iM-I

Score: 4.0
"Cold Open: Giuliani" (Bayer, Killam, Moynihan, Johnson, Bennett) I appreciate the attempt at a Birdman parody – and Beck Bennett does a pretty good Birdman voice – but what an odd place to put it. And, yes, Giuliani's been in the news for saying dumb things, but I just don't get the impression that people care enough about Giuliani's opinions anymore that we need to see him skewered in the cold open of SNL
Score: 3.5
"Net Neutrality" (Zamata, Jones, Moynihan, Johnson, Davidson, Killam) "This video is fine. I'm OK with this." This almost felt like a four minute buildup so that Dakota Johnson could make a "wink wink" 50 Shades joke. The thing is, most people really don't have any idea what net neutrality actually is and there was definitely something there to be explored, but this was way too long for the same joke over and over.
Score: 3.5
The Ugly
"Cinderella" (Johnson, Strong, Killam) First, this looks absolutely beautiful. Second, the idea of Cinderella bringing her uncouth coworker to the ball is a funny idea, but it just didn't work, in a sketch that felt about twice as long as it actually was.
Score: 3.0
Average Score for this Show: 5.47
· Martin Freeman 6.89
· Woody Harrelson 6.75
· Bill Hader 6.73
· Amy Adams 6.52
· Kevin Hart 6.39
· Chris Pratt 5.99
· Jim Carrey 5.94
· Cameron Diaz 5.92
· James Franco 5.89
· Sarah Silverman 5.86
· J.K. Simmons 5.81
· Blake Shelton 5.58
· Dakota Johnson 5.47
· Chris Rock 5.38
Mike Ryan has written for The Huffington Post, Wired, Vanity Fair and New York. He is senior entertainment writer at Uproxx. You can contact him directly on Twitter.