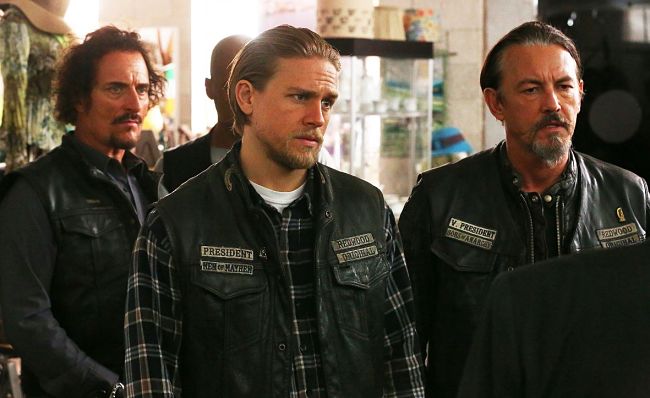 After a brief foray into "what if Game of Thrones, but no dragons," Kurt Sutter is returning to the world of motorcycle outlaws with Mayans MC. The Sons of Anarchy spin-off, which follows the Mayans Motorcycle Club in a "post-Jax Teller world," premieres in September, and to promote the FX series, Sutter spoke to Deadline about, among other topics, the development process.
"I knew I didn't want to do it by myself; I didn't think that a white guy from Jersey should be the sole voice of a Latino biker club," he said. "I met Elgin James — super-talented. I don't say this to be overly self-effacing, but my key to success is, I surround myself with people who are smarter than me… I sat down with Elgin and it was so clear to me that I was no longer the smartest guy in the room. I didn't know anything about him, but it's a fascinating story. Elgin doesn't speak Spanish, but he is this melting pot of about four or five different cultures, black, Colombian, and he grew up as an outlaw and understands that world. To me, he was the smartest choice, and he's been instrumental in this."
Sutter also discussed why Sons, which ran low on creative fuel in its later years, aired for seven seasons. "The reason I originally said seven seasons is, I knew from working on The Shield that it monetizes after that time and becomes too expensive to make," he said when asked how close the show was to the vision in his head. "I had a sense of how I wanted it to end, that ultimately that Jax will realize that he can't be a good father/son/brother and still be a good outlaw. He's tried to marry that sh*t for seven seasons and that at the end of the day…"
Mayans MC debuts on September 4.
(Via Deadline)