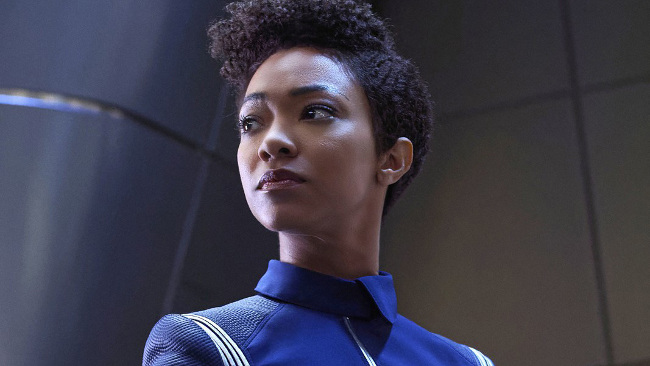 Star Trek: Discovery took a big risk when it jumped into the mirror universe. It seemed the show had paid off all its plot threads, save one, and Burnham and Lorca were about to face the music for their personal and professional failures. What could a visit to Goateeworld possibly yield? Quite a lot, as it turns out.
We'll avoid spoilers, but Discovery whose next episode begins streaming Sunday, January 28th at 8:30pm ET, upped the stakes by confirming every fan theory seemingly at once. Lorca's shiftiness, Stamets' coma, Tyler's PTSD: all of it got explained in one go, while simultaneously leaving the crew, not least Burnham, in somehow even more serious trouble than they were already. Yes, we know they are trapped in a mirror universe run by fascists. Trust us, it gets worse for them. And we can't wait to see how they get out of it.
This Week's Geeky TV
Supergirl, Monday, Jan, 2wnd 8pm ET, The CW: Supergirl rolls out the supervillains as they take the fight to Reign.
The Flash, Tuesday, Jan. 23rd, 8pm ET, The CW: Barry is still in jail, so it's up to Ralph to save Central City. Good luck, guys. You'll need it.
Black Lightning, Tuesday, Jan. 23rd, 8pm ET, The CW: After a strong pilot, Black Lightning has a new problem: choosing whether to leave retirement and what to do about his newly superpowered daughter.
Riverdale, Wednesday, Jan 24th, 8pm ET, The CW: "Archie undercover" probably isn't going to end well, but at least the homicidal vigilante is off the str… Oh he's not gone either. Man, this town needs better police.
The X-Files, Thursday, Jan. 25th, 8pm ET, Fox: The X-Files finally tackles why so many people remember Sinbad was in a genie movie. No, really.
Arrow, Thursday, Jan. 25th, 9pm ET, The CW: You know, threatening the child of a man who has a triple-digit body count and absolutely no compunction about horribly maiming you seems like a really bad idea, but people keep doing it to Ollie.
Agents Of SHIELD, Friday, Jan. 19th, 9pm ET, ABC: The sixth season had better entirely be Fitz with his time machine sidekicking it with Peggy Carter, fixing plot holes in the Marvel Cinematic Universe. But until then we guess saving the Earth is a good second.