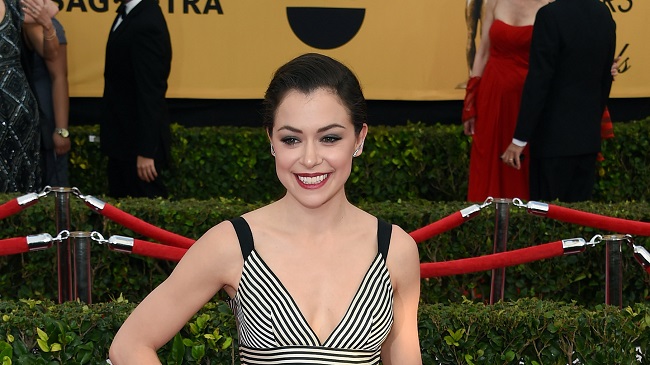 Tatiana Maslany is willing to play multiple people on a single show (Orphan Black), but one thing she's pretty sick of is being asked to give in to sexist beauty standards. The first-time Emmy nominee has been acting since she was a teenager and has witnessed several examples of Hollywood sexism throughout her career. Maslany, who spoke to People magazine, now says she refuses to follow through with unnecessary requests — including waxing her mustache.
"…I'll do it if the part calls for it and it makes sense." …

"Sometimes it's not worth being political about it. There's a point where I have to separate my own political values versus the character I'm playing."
You're probably thinking "Tatiana Maslany? Has a mustache?" Well, it's a dirty, little secret that most women have a little bit of facial hair that can sometimes be dark. On camera, especially in these hyper-detailed HD times, any hint of hair can be seen in silhouette or in a closeup. But Maslany is very squarely on Team "Facial Hair, Don't Care" because why should she change her appearance after she's already been chosen for a role? Was her talent not good enough?
But it's not just altering her personally-crafted appearance that gets Maslany annoyed. It's also when she raises questions when she thinks something uncomfortable is happening on set:
"Like being told, 'Let's not talk about that, sweetheart,' if I have an issue with being hit on by a 50-year-old when I was 17 and on set," she recalls. "It's never ending. Being put into this little outfit that showed my midriff in a scene where I'm supposed to be grieving the death of a family member, and it's like, 'Make sure that her belly button is showing' – it's just pathetic. It's so pathetic."
It might not make people feel comfortable, but Maslany speaking out against these unfair standards against Hollywood's women might just help them bust out of being objectified and into more substantial roles.
(Via People)