The Hollywood Reporter has "The Uncensored, Epic, Never-Told Story Behind 'Mad Men'" as its cover story this week. It has several fun revelations, and other old revelations that they are resurfacing ahead of the final episodes about the casting, the struggles the series went through, and the difficult negotiations before the fourth season that nearly derailed the series.
Here are some of the highlights from the THR piece, though it should definitely be read in its entirety:
— A lot of famous people came in to audition for the series, including the cast of another popular period show:
Matthew Weiner: There were famous people who came in to read. The guys from That '70s Show came in — not Ashton, but the other guys. I'm still impressed by Danny Masterson.
— Both Elisabeth Moss and January Jones came in to read for Peggy. When Moss read for the part, she looked more like January Jones than Peggy:
Elisabeth Moss (Peggy Olson): I was the first person to audition for Peggy. Matt showed us all our audition tapes at a gathering, and it's hilarious because I don't look anything like Peggy [in the tape]. I'm 23, blond, tan. I look like I just walked off of the beach.

January Jones (Betty Draper) I came in for Peggy twice. Matt said, "Well, there's another role, but I don't really know what's going to happen with her." He didn't have any scenes for me, so he quickly wrote a couple.
— While Jon Slattery came in to read for the Don Draper role (and was a little grumpy because he didn't land it), Vincent Kartheiser — who plays Pete — had no such delusions:
Vincent Kartheiser (Pete Campbell): I only auditioned for Pete. My agents aren't delusional enough to think that I'm a Don Draper.
— The show couldn't afford to make Alison Brie a regular yet, and assumed that Community wouldn't go and would be able to get her later. They were wrong. Brie, however, immediately recognized what a great pair she was with Kartheiser:
Alison Brie (Trudy Campbell): I looked up a picture of Vincent Kartheiser and was like, "Oh my God. We kind of look like brother and sister. I could totally be his 1960s wife." Couples kind of looked alike then.
— The role of Don Draper came down to two people: Jon Hamm and the husband of actress Mariska Hargitay, Peter Hermann. I can totally see it, too: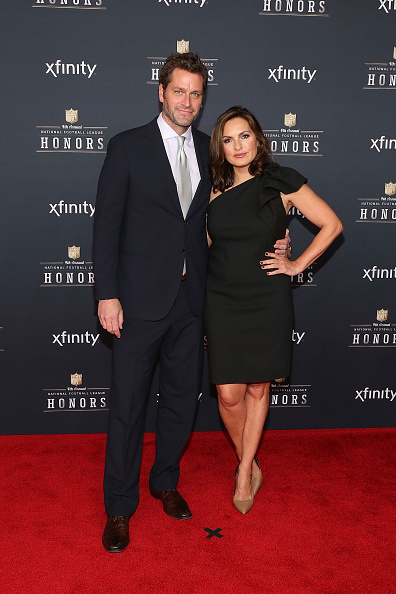 — Here is, perhaps, a clue to that the series will end on a happy note:
Christina Wayne (former senior vp scripted programming, AMC): My biggest argument with Matt [Weiner] was on the ending of season one: Don coming home and telling Betty he couldn't go to Thanksgiving. He'd written it that Don comes home, hugs Betty, and they drive off into the sunset. But that ties the show up with a bow, and we had to do season two. He got so mad he hung up, but he called back and said: "You're right. I just love my characters so much, I wanted them to be happy."
If Weiner wanted the first season to end happily, one would think he'd want the entire series to end happilly, as well.
— The contract negotiations with Weiner were nasty after the fourth season. AMC wanted to add more commercials, and cut 30 percent of the cast. They also wanted to do a spin-off, perhaps one about Peggy's character. Weiner refused to budge, and negotiations were so fraught, he even reached out to Aaron Sorkin, Steven Bochco and David Chase to talk about what it's like to have a show taken away from you. Eventually, they came to an agreement (although, Mad Men went on an extended hiatus in the meantime). However, AMC did stick it to them one last time with the final-season split:
Jon Hamm: Everyone went through the stages of grief: anger, frustration, sadness and then, finally, you get to acceptance. And nobody knew how it ended, so there was a lot of anxiety about that, too.
Those final episodes will finally start rolling out on April 5th.
Source: THR