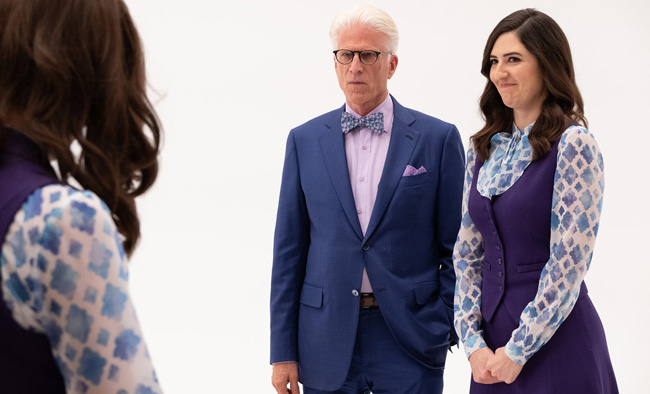 Thursday night's mid-season finale of The Good Place, "Janet(s)," was promised to be a real humdinger of an episode, and goodness gracious it did not disappoint. To escape the never-ending advance of demons in last episode's cliffhanger, Janet quite reasonably had the solution to pull Michael, Eleanor, Chidi, Tahani, and Jason into her void — with mixed results!
While Michael came through with every hair on his perfectly coiffed head intact, our gang of intrepid degenerates … well, came through as four Janets, respectably. It wasn't an easy feat to pull off, as series creator Michael Schur told Variety that everything had to be choreographed "to the millimeter."
Yet, Schur was confident they could pull it off since Orphan Black "did like 1,000 times."
"That's what I kept thinking of — that scene in Orphan Black where the clones finally meet each other and Tatiana [Maslany] was just handing herself things and talking to herself and had her arm around herself," he explained.
The primary difference between Orphan Black and "Janet(s)," of course," is that while Maslany was playing characters that she was able to develop and act-out as she saw fit, the heavy-lifting of the episode relied on D'Arcy Carden — who had to maintain a balance between picking up on the subtle character traits of her costars without being over-exaggerated.
To accomplish this, Carden studied an initial cast table read in which each of her cast members read their lines as if things were business as usual.
"I didn't listen to music for, like, a month. I only listened to that," Carden says of the table read audio. "It is hard to play five really well-established characters that I know for years now — it's a different thing than making up five new ones. We were really kind of figuring out if we wanted to do impressions of them or just a hint of them. We didn't want it to be like 'SNL' sketch characters — we didn't want it to be over the top. It was a really fine line."
Suffice to say, Carden's hard work paid off, because after the episode aired people took to Twitter to lay the praise on heavy:
Others had ideas about who should be the next host of the Oscars, with Kevin Hart out:
That's an idea we can probably all get on board with … Well, except maybe D'Arcy Carden.