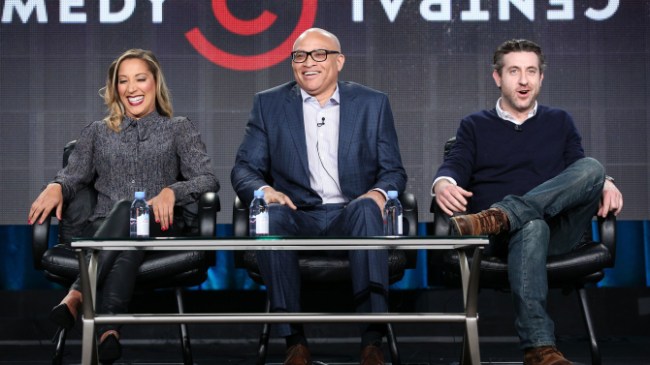 To promote Comedy Central's The Nightly Show, Larry Wilmore appeared for a Q&A session at Saturday's Television Critics Association press tour in Pasadena, California. The series will premiere in a little over a week, and if the man is experiencing any pre-show jitters, he kept that to himself. Instead, he explained what to expect from the series taking over the time-slot left vacant by The Colbert Report.  From Deadline:
In much the same way Jon Stewart's The Daily Show "is cousin to the nightly newscast, Wilmore described his new show as a cousin to the Sunday Beltway shows This Week and Meet the Press, Wilmore described. " One of the titles I had was Meet the Rest," he recalled.

The show will open with Wilmore's scripted take on events of the day; the second segment will be devoted to a panel discussion where those topics are deconstructed. Regular contributors will perform a variety of functions, including reporting comic pieces from the field, and participating in the panel discussion. "We're finding out what all that means right now as we do test shows" he said, adding that some of it will be figured out on the air.
So basically, this sounds like it'll be like The Daily Show meets Politically Incorrect. That sounds pretty cool.
The show's premiere is scheduled for January 19th, which coincides with the Martin Luther King Jr. federal holiday. While the scheduling here was dictated by The Daily Show's production schedule, Wilmore gave his thoughts on the subject.
Wilmore joked "I have a dream that a brother needed to work on that day," then insisted the date was chosen because it was the start of the week, adding, "I'll probably have to call attention to it, now that you brought it up. Thanks for that." (Via)
Up until recently, I was on the fence regarding this show. Do we really need another series to spin-off from The Daily Show? The Colbert Report is never coming back and Last Week Tonight with John Oliver is pretty damn amazing. But after reading about the political roundtable format The Nightly Show will be implementing, the series is beginning to sound like it will be pretty great. No pressure, Larry Wilmore. No pressure.
(Source: Deadline)