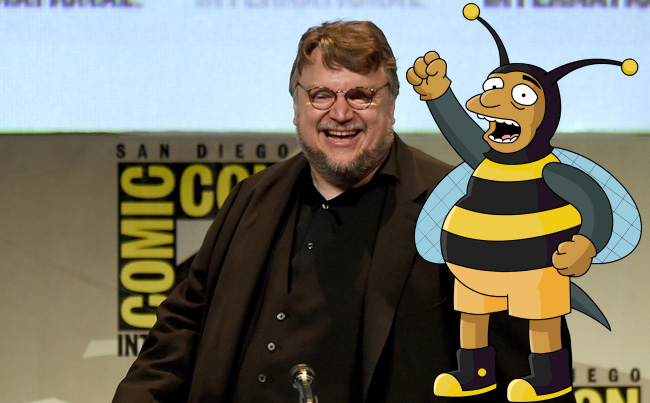 Guillermo Del Toro wants to get involved with The Simpsons Again. His Treehouse of Horror cold open a few seasons ago was special as both a tribute to his body of work and to horror/sci fi from across history. It was glorious mixture of things a lot of people love and Del Toro would be welcome to do it any time he wanted in the future. Too bad he doesn't want that this time.
During a guest appearance at The Simpsons panel at Comic-Con, Del Toro came out and made a case for guest starring on the show before it finally comes to an end. His choice is obvious according to Mashable:
"I want to play Bumblebee Man's brother," said the director, who was a surprise panelist at the Simpsons Comic-Con panel on Saturday.

"Por favor, señor Matt," he added, looking to Simpsons executive producer Matt Groening.

According to Del Toro, he never gets a straight answer out of Groening. But after Groening heard the horror director (who hails from Mexico) say Bumblebee Man's signature "Ay, no me gusta" line, it's hard to imagine him not getting the gig.
Del Toro also provided a nice word of praise to Homer Simpson's talents in the bed room, a blessing in disguise for the bigger men of the world (and those with delusions of grandeur):
Fans at the panel were treated to a peek at this year's Treehouse of Horror episode, looking at two segments, according to Mashable, including the much touted Sideshow Bob segment:
Two different clips — which will be made available online closer to the episode's airing, according to Fox — were shown: One featured Homerzilla, which is exactly what it sounds like (Homer + Godzilla), and another involved Sideshow Bob and Bart.

As previously reported, this year's Treehouse of Horror episode will see Sideshow Bob finally kill Bart Simpson, and in the clip he gets his wish more than once. Bart's beaten, attacked by a lion and, in one moment, flattened, turned into a paper airplane, launched into a moving fan that cuts him into pieces, and those pieces are burned. Classic.
Good ol' Sideshow Bob, cutting kids into pieces and feeding them to lions. Good times.
(Via Mashable)