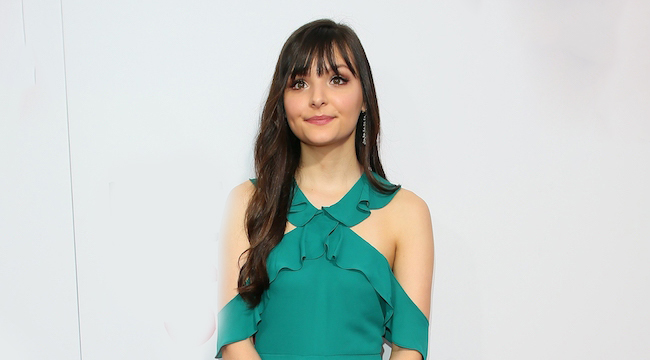 Though there had been some speculation earlier this year that the Whisperers might not even enter into season 9 — or that they'd be skipped altogether — it appears as though that storyline from the comics is coming together, although it does appear that The Walking Dead will handle the departure of Rick Grimes and the open-ended exit of Maggie Rhee before they come into the picture.
In the comics, the Whisperers are a group of survivors who wear the skin of zombies and walk among the dead. We got our first glimpse of The Whisperers in the season 9 trailer, which debuted at this year's Comic-Con. The Whisperers are are led by Alpha, who has been perfectly cast by Oscar nominee Samantha Morton; Beta, her lieutenant; and Lydia, the young daughter of Alpha.
Though no casting announcement has yet been made for Beta, we do now know that Lydia will be played by Cassady McClincy, who has had roles in Netflix's Ozark, Love, Simon, and Constantine.

(COMIC SPOILERS)
The interesting thing about Lydia is that she is taken prison by the Hilltop Colony, strikes up a romantic relationship with Carl Grimes, and ultimately defects from The Whisperers. However, Carl Grimes is no longer on the series, which is what led some to believe that The Whisperers might not even play into The Walking Dead anymore. However, there has been some speculation that Lydia might strike up a relationship — romantic or not — with Enid, Carl's old love interest and current member of The Hilltop.
However, we should not expect Rick Grimes to confront The Whisperers before his exit from the series. Andrew Lincoln, in fact, found out about the casting of Samantha Morton at Comic-Con this year, after he'd already filmed in his final scenes. Moreover, the shooting schedule for The Walking Dead is almost certainly in the back half of season nine at the moment, so these new cast members are not likely to show up until the back eight.
McClincy joins an impressive new roster of actors joining the series in season 9, including Nadia Hilker (Magna), Angel Theory (Kelly), Tony Nominee Lauren Ridloff (Connie), Eleanor Matsura (Yumiko) and Fantastic Beasts and Where to Find Them star Dan Fogler, who plays Luke.
The Walking Dead returns to AMC on October 12th.