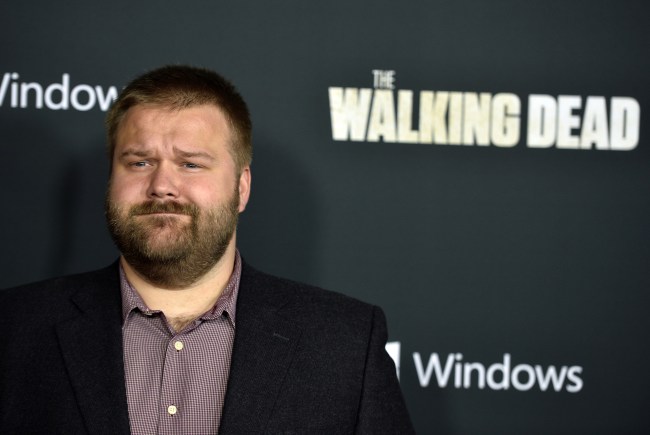 When you're one of the main forces behind the most popular show on television, you're going to get a lot of passionate feedback from the fans that follow it. Fortunately, The Walking Dead creator Robert Kirkman seems pretty well adjusted to all of that, even the death threats he says have been coming since the days when the zombie apocalypse franchise was in comic book form only according to Swedish website Aftonbladet:
"I've lived with death threats for 15 years… I get feedback on the web every day. Most of the people I work with stay away from it. They cannot cope with the terrible attacks, the negative comments and death threats I get."
But Kirkman seems fine with all the vitriol and even uses it as a kind of psychopathic feedback tool:
"I can say banana split in social media, and they respond, 'Go to hell, we want soft ice cream. You will die!' I take it with a grain of salt. People have been saying disgusting things to me for so long now that I have become desensitized. I use it as a tool. You get a sense of what the audience likes and dislikes, and what path they want the action to take."
He stressed that the fallout from The Walking Dead season six cliffhanger hasn't affected anything, as the show was already two months into preparing season seven when the season six ending freak out occurred. But it has helped with Fear The Walking Dead, and he claims some characters "have more or less time" based on fan reactions. Whether that's screentime or life time is left unclear.
"When someone says 'Beth was my favorite, I'll kill you!' Technically, it's a death threat," Kirkman said with a shrug:
"I could ask the police to trace the person but it is probably no danger. … It can be very scary if it is from a 35-year-old man with a lot of knives who knows where I live. But it can also be a 13 year old highly emotional girl…

"We'll see if I survive, but I do not think anyone is going to hurt me here."